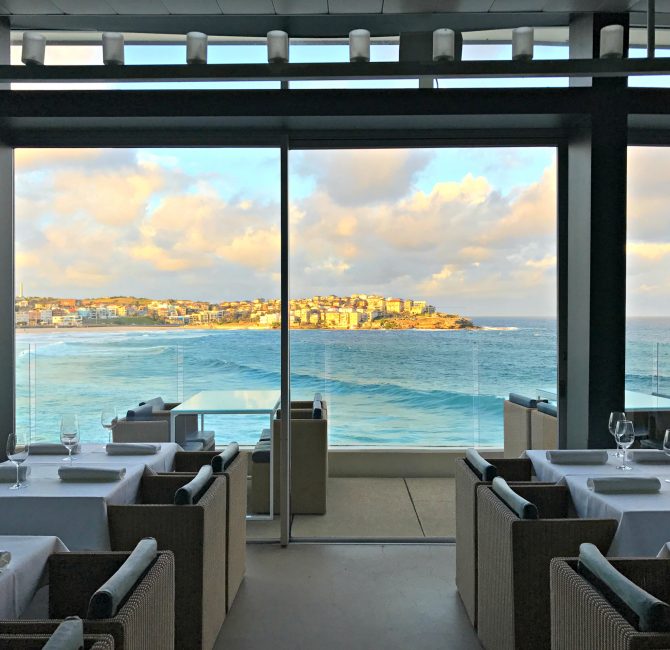 Swim|Drink|Dine
Topping the list of my must-do places in Sydney is Bondi Icebergs. Nestled on a cliff above, or maybe I should say almost in the Pacific Ocean (see pics below), this historic location overlooking Sydney's most iconic beach, Bondi Beach, has the most spectacular, panoramic views and equally spectacular food. And did I mentioned the lap pool? It's probably one of the most notable and photographed lap pools by the sea.
Bondi Icebergs Swimming Club
The club itself dates back to 1928 when a few local lifeguards were looking to stay in shape during the colder months. They formed an all male, Winter Swimming Club, which to this day, remains the only licensed Winter Swimming Club in the world.  This history states this:
They formed the Bondi Icebergs Winter Swimming Club, drew up a constitution and elected office bearers. Included in the constitution was a rule that to maintain membership it was mandatory that swimmers compete on three Sundays out of four for a period of five years. This rule, known as the "15B rule" still exists and has been the source of much commentary over the years.
It wasn't until 1995 women were permitted, and I love this old picture of all the men taken from their website. There are more swim club shots here. There's one image where the swimmers are holding blocks of ice (icebergs) in the pool, which makes me wonder if this is some sort of initiation for new members, or maybe how they open the winter swimming season.
Here are some images I took of the waves crashing in the pool. The restaurant and club are in the white building.
It reminds me of this unforgettable shot by Slim Aarons.
Bondi Beach
Bondi Beach is one of the most well-known tourist attractions in Sydney. When asked why it was so well-known, most locals said they really had no idea why it was so popular, that there were other beaches they felt were even more beautiful not too far from Bondi. Maybe so, but it was gorgeous as you can see. It reminded me of parts of California, especially Laguna Beach area. Along the cliff, there is a path you can easily walk from the restaurant out to the point with rock formations, flowers, and residences. I was thinking Airbnb at this point.
Icebergs Bar and Restaurant
Dinner, drinks, this view, organic, seasonal, modern Italian fare and an incredibly knowledgeable staff made this a top-notch dining experience. The service at Icebergs is outstanding. The interiors are perfectly suited for a location near the sea, where the harsh environment easily damages finishes and people might come in with wet clothes from swimming. It's contemporary, functional, yet elegant.  If you take a look at their site, they give credit to nearly everyone involved in the meal, including their sea salt maker. If that isn't proud of your growers, I don't know what it is. Our server mentioned they had opened a restaurant in Bali, too (as many Australians are doing), but we couldn't get there. Next time it will be on the list. Conveniently, we were the last to leave the lunch seating, because we took so much time asking so many questions about the food, wine, design and everything else, I was able to get pics without anyone around.
Definitely one of my most memorable meals ever. Put it on your list, you won't be disappointed.
Xo,
Cassandra