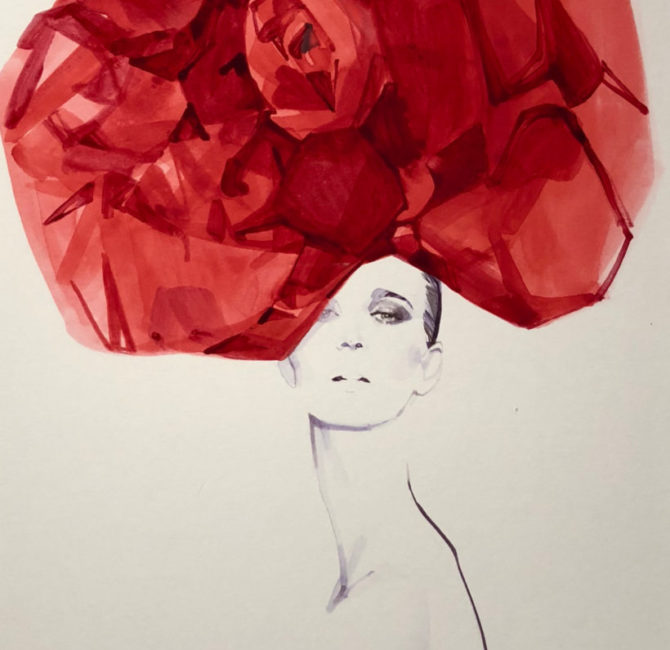 Fashion Art
Illustrating Fashion
Like architectural illustrations, fashion illustrations capture ideas, moods, fabrics, patterns, and express construction lines for garments. Illustrations help conceptualize, present, or document design. In our high-tech, low-touch society, where nearly everything is digital, architectural, interior and fashion illustrations that are hand-drawn have a certain charm and represent a skill set that lies at the very core and foundation of design that is still relevant in our daily lives with clients. Sketching is our first language and form of communication as designers, and often it's the fastest way to show a client an idea.
With New York Fashion Week in full swing, I'm watching Instagram light up with runway looks some of my favorite illustrators have documented from this year's runway, so I thought I'd share a couple I admire. Here in Atlanta, SCAD Fash Museum of Fashion and Film, recently exhibited the work of Fashion Illustrator Marc-Antoine Coulon. This Paris-based artist's first retrospective included a small gallery at the museum dedicated to his illustrations and portraits. He captures people, their expressions, facial structure, and deep emotions with such exactness, yet delivers a watercolor softness that balances out the strong black lines and bold colors. He has illustrated for many of the luxury fashion brands and captured some of the world's most notable figures with his brush. Here are some of my favorites from the exhibit.
*Images taken by me at the exhibit.
Another one of my favorite illustrators is Jessica Durrant. She has also collaborated with and illustrated for several luxury brands. Btw, if you like her work she'll be teaching an illustration class in Atlanta in April that I'm hoping to attend. Her work has a vintage feel to me, and I love her florals and patterns, and of course the watercolor washes.
*Images from Durrant's website
Lastly, Samantha Hahn makes my inspirational/aspirational list of fashion illustrators to learn from and emulate. Her illustrations embody the bright, loose, almost wet look I love from her watercolors. Her faces and use of white space give her illustrations a shine and her skin tones are some of my favorite in the industry. As with the others, Hahn also has a client list full of luxury brands.
*Images from Hanh's website.
I have found in the interior design industry, clients love and appreciate hand-drawn architectural illustrations and don't consider the digital ones as beautiful or revere them as an art form. So, I'm curious, do you prefer digital or hand-drawn illustrations?
Xo,
Cass