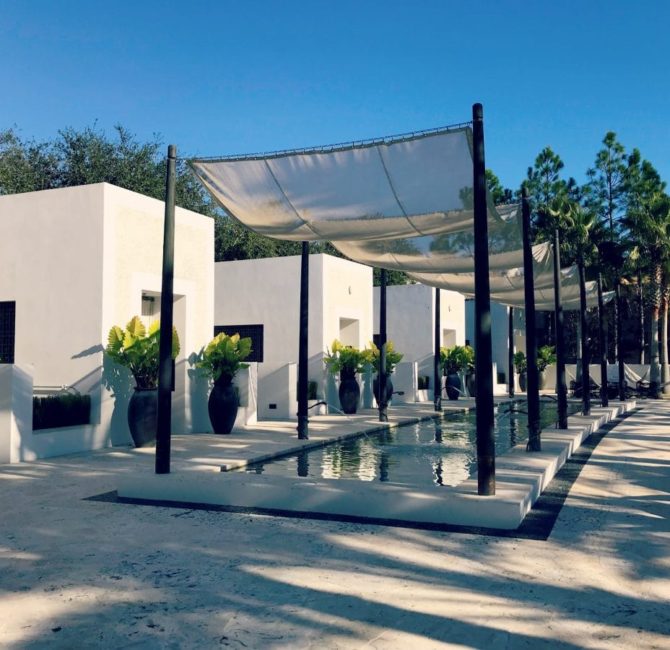 Alys Beach
Those unmistakable Bermuda butteries form the entrance gates and visual markers to Alys Beach. Rooted in architecture from Bermuda, Antigua, and Central America, Alys Beach adheres to strict design guidelines and construction principles, which gives it a cohesive, distinctive look and design vocabulary throughout.
Originally, butteries in Bermuda were constructed to store perishable food like butter and milk. Made completely of stone, with a wooden door, these structures were detached from the main house, just a few stone steps away. The stepped minaret roof shape was made of limestone and many have found new use on the island as studios, tool sheds, etc. Since Bermuda has no fresh water source, the stepped roof had other functional reasons, too, like collecting rain water. Below is a picture of one from Bermuda and the ones at Alys Beach.
A high-density network of streets link the residences and businesses perpendicularly with the beach. A walkable development, with bike paths connected to the rest of 30A, Alys' interconnectedness, private courtyards, white washed architecture, softened by beautiful well-thoughtout landscapes, offers places to come together as a community or retreat within the privacy of your own home.
Entrances
One of my favorite things about Alys Beach is the variety of entrances, doors, courtyards, breezeways and endless amount of shapes. Notice all the different shapes used both as arches and in the detail work. Even the simple, restrained, deconstructed entrances are beautifully minimal without being too contemporary.
Lighting
In addition to the shapes, entrances and cutouts provide an opportunity to get a sneak peek of the lighting and offer a grand welcome with lights that look like they've traveled from places like India and Morocco.
Pool and Caliza Restaurant
The restaurant was closed for renovation while we were there, but this Moroccan inspired space below is perfect for poolside cocktails. The pool has private cabanas, each with a different color palette and inlaid stone pebbles serving as a welcome mat with their own beach inspired design.
Landscape
Everywhere you look, there is landscape as art. Whether it's outdoor sculpture, espalier, vines and trellises, huge pots or small parks with outdoor fireplaces, beautiful stone walkways and vistas offer opportunities to connect with neighbors and visitors and enjoy nature and plants as a medium for art. Be sure you look at the two columns flanking the stairs in front of the green space with the bowls on top. Notice the design motif on the bases looks like fish scales, or mermaid scales, if you ask me. 😉 Such a subtle pattern detail. I love using these kinds of things. They're like little visual treats for those who take time to notice their surroundings.
Fountains
Nestled in the side of buildings, in entryways, as a spot to get water on walking paths, and even at Fonville Press, the presence of water can be heard trickling in the background at Alys. I'm currently having a moment with this sunburst or starburst shape on the plate behind the spout. Having one custom made for a client project as we speak.
Fonville Press
This little cafe has a little variety of casual nibbles from pastries, coffee, wine, beer, sandwiches and salads. Couldn't you just sit here all day and thumb through all these books while sipping coffee or wine? The outdoor patio has little nooks for seating, surrounded by vines and planters, Moravian stars above, a playground and fireplace just steps away for cooler nights while watching the kids. The red tiled fountain above is also on the patio at Fonville.
Mast
This shop is all me. No color, lots of texture, and my favorite thing is the way they've displayed the small works on paper. Brilliant.
So many other great places at Alys like George's, Alys Shoppe and others, but I'll share those in a later post. In the meantime, you can check those locations out by clicking on the links in their names above. As always, you can hover over any words that are in orange to be taken directly to their site.
Thanks for taking the time to read this! Have you stayed at Alys? If so, what are your favorite places and which property do you recommend to rent. As always, I'm looking for places to add to my list for future visits.
Xo,
Cassandra