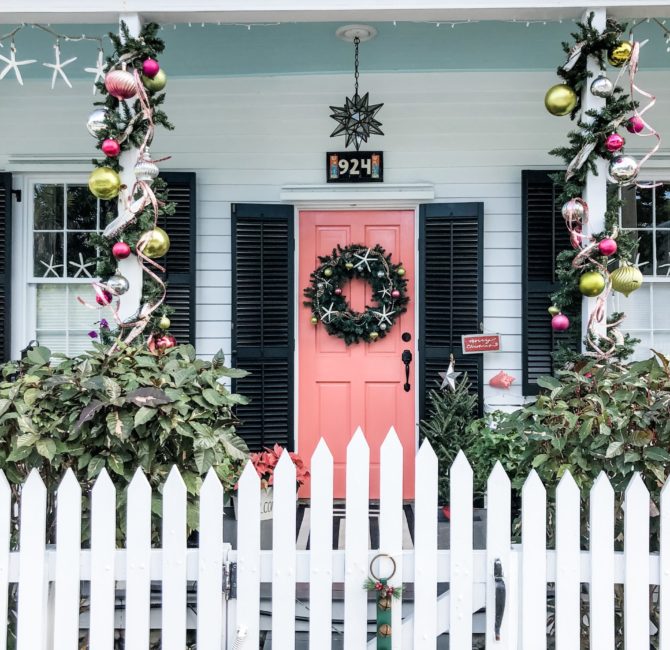 Holiday Travels 2019
Christmastime in The Crescent City and The Conch Republic
There is nothing more I love than hotels and traveling around Christmastime. I love hotel Christmas decorations, because they usually have larger floral and decorative budgets than any of us, along with a full staff to make Christmas magic truly something special.  I love huge Christmas buffets (because who doesn't like options), formal Christmas dinners, and special Christmas treats that trained pastry chefs take years learning to perfect. I love the sound of a piano playing Christmas music in the marble lobby of a grand hotel with a tree three times what I can fit in my house and hotels with the most memorable Christmas traditions, as you'll see below. It reminds me of the little girl inside me who remembers going to the mall as a child and thinking how big and beautiful all the decorations were and wishing we could have that at home.
This year we spent Christmastime in New Orleans, St Pete (more on that in a different post) and Key West.  If you've always done the traditional thing at Christmas, I hope these images and places inspire you to try something different for Christmas in 2020, like take a trip with your family during the holidays, to create new memories and experiences. One day, I hope to visit some of the world's most well-known Christmas markets. I'm just trying to figure out how I'm going to survive the cold to get there. 😉
New Orleans, AKA The Crescent City
Roosevelt Hotel
So for the grandest of places, the Roosevelt ranks high on the list, and their beautiful trees and florals do not disappoint. The lighting of their decorations is almost as historic as the building itself and draws people annually to the event.
The interior lobby without the decorations is still nothing short of fabulous. The ceiling, moulding, mosaics, and lighting are a course of study in interior design alone. After a closing due to hurricane Katrina and reopening in 2009, the carpet that had previously covered the lobby was removed, everything was restored, and everything brought back to its original grandeur. I'll save more of the details of that for a design details focused blog post later, but because I can't resist, here are a few.
The Ritz Carlton
Another grand favorite going over the top is the Ritz. Their gingerbread display is probably the best I've seen so far, which includes a streetcar and a tugboat. The tugboat is a new addition this year and both are all made from gingerbread. A work of culinary art indeed and truly a labor of love. If you've ever built one from a kit, you know the amount of patience they take.
Step right outside the Ritz for these windows. Who doesn't love a beautiful Christmas window to inspire child-like wonder?
The Hotel Monteleone
The Monteleone is always a must, especially if you've never seen the Carousel Bar. They also offer a Reveillion dinners throughout the month of December. Don't know about this New Orleans tradition? Click here for an explanation.
The Royal Sonesta
This is probably one of the most photographed street corners in New Orleans, thanks to their quintessential New Orleans style architecture, iron balconies and their showstopping hanging planters. It's a corner I often see used in tourism promotional photos. Pop in for a coffee at PJ's and walk through their hall of trees. Oh, and here is their balcony with ferns, sweet potato vine and fig vine just pouring out of their planters.
Key West AKA The Conch Republic
Old Town
Mid-December we headed to Key West for the remainder of the year. The entire town was decorated, so I didn't feel like I missed out on not having a tree or decorations this year. This little conch cottage is so classic Key West Christmas and who doesn't love lighted palm trees? The lighted chicken is absolutely perfect considering the amount of gypsy chickens roaming the town. The big Victorian house did a blue, snowy theme with giant snowflakes hanging, and makes my favorite list just for carrying a concept throughout.  They did an outstanding job on it. The city must have a Christmas light competition, because we saw signs in yards saying, "vote for this house." The tree below at the marina was all buoys and the lighted boats were always fun to see from shore.
America 2.0 Schooner
We sailed on an classic schooner for brunch on Christmas Day and saw Santa boarding his yacht for vacation after making all his deliveries. Haha. Just kidding. I'm sure he was paying the very lucky kids on board a visit to hand deliver their gifts.
This sweet little bakery, just a block away from our rental, was absolutely adorable and yummy, so we were there frequently. I think my husband walked there every single day for coffee, even if we didn't get food from there. My favorite shop in Key West, Grace on Frances, did an all minimal, organic theme with their decorations, which I love. They used a Mexican straw garland seen above the windows, which I had to buy, and natural ornaments on their tree. I have blogged about them before and tell people all the time, you have to get off Duval St. for some of the best places in Key West.
And when you live on a tiny island with quirky houses, eclectic people, and chickens running loose, your mode of transportation should be anything but ordinary. This Moke wins my heart.
Hope you enjoyed reading and if you've never traveled during the holidays, I hope you'll consider it this year.
Xo,
Cass