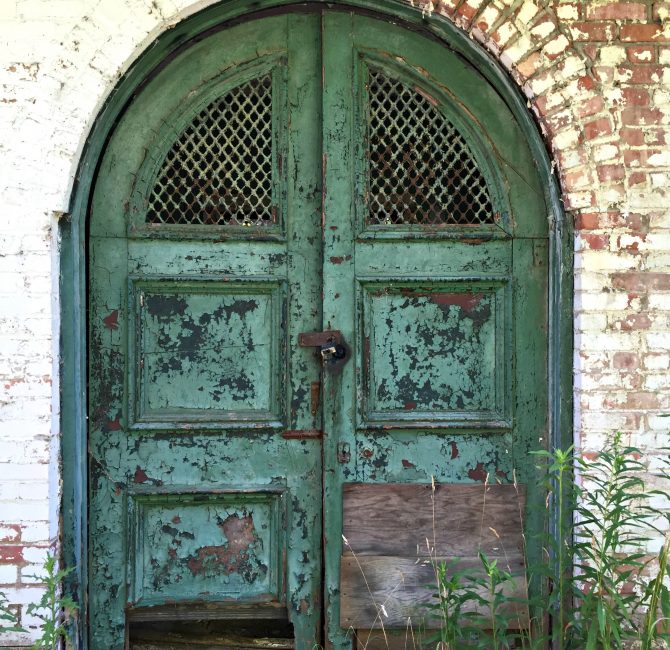 Sharon Springs, NY
Ruins. Restoration. Revitalization.
Last weekend, we stayed in Sharon Springs, NY. What an intriguing town for me as a designer. Much like at Christmastime when visions of sugar plums are dancing in children's' heads, visions of redesigning an entire town danced in mine. Historic properties, both residential and commercial, just crying out for love, care and restoration can be found at every turn. Sharon Springs is a mostly abandoned historic, resort and spa town (only about 500 people are full-time residents), that has been left partially decaying, with hauntingly, beautiful Victorian architecture sprinkled around a few restored properties from a slow grass-roots restoration effort sweeping the village. It's part scary movie, part romantic love story. Driving through, it's as if a bomb went off or some sort of plague hit, wiped everyone out, and the buildings were left to rot, and not just any buildings, gorgeous 19th century homes, mansions, inns, hotels and commercial buildings full of opportunity.  It's a historic preservationist's (and a designer's) dream running wild. While there are a small number of buildings that have recently been restored, many sit next to buildings that look like they could fall down at any minute. The potential for it to be spectacular is already there, and at one time, it was just that.  If all proposed plans go through, it is a town on the verge of a major comeback, and as many of us travelers are looking for unique experiences away from the city, this is poised to be the perfect long weekend respite.
Pictures of Main St. Sharon Springs today.
Listed on both the National Register of Historic Places and the New York State Register of Historic Places, Sharon Springs, with its sulfur, magnesium, and chalybeate mineral springs, previously had as many as 10,000 visitors to the small town, including such notable names as the Vanderbilt's and Oscar Wilde (who once gave a lecture at the Pavilion Hotel, which has since been demolished). Direct ferry-to-stagecoach lines connected the village to NYC and then rail followed.
The New York Times stated, After WWII, Sharon Springs got a second wind when the West German Government, which paid reparations to Holocaust survivors, accepted therapeutic spas as part of the medical package.
As the highbrow crowd moved on to Saratoga Springs for the horse racing attractions, the wealthy Jewish families of German origin, who were turned away from Saratoga Springs due to social inequality, claimed Sharon Springs as their own. Unfortunately, these families began to move elsewhere, and the village suffered economically. By the 70s and 80s, Sharon Springs was once again thriving, thanks primarily to secular Jewish tourists, but by the late 80s, as the these tourists and the weekend hunters and trade workers that followed had left, the town was left deteriorating again.
Pictures of a few of the homes and inns in Sharon Springs. Many still needing restoration.
While we were there, we found this rare and impressive gem that I am completely obsessed with, the Adler Hotel. This 150-room, five-story, Spanish Colonial Revival style hotel was built in 1927. It was the last great hotel built prior to the Great Depression and closed after the summer season in 2004. Pictures below depict all sides of the hotel and since there are no trespassing signs posted, we weren't able to go inside, but the exterior was a treat all in itself. An investment group purchased the hotel after it closed in 2004. All together, this company purchased the Adler, Columbia and Washington Hotels and the Imperial Baths for $750,000. Yep. My draw dropped when I heard that. The Washington Hotel has since been demolished, but the other properties are pictured below. This place blows my mind and has it running wild with ideas. I daydream of restoring this beauty to her full grandeur and seeing well-to-dos strolling the grounds, having tea on the porch overlooking the gardens, and a thick vine covering the wall to the entrance of what looks to be the spa. To breathe life back into this would be the project of a lifetime. Word is, in 1946, one of the busboys at the Adler was Edward I. Koch who would later become the Mayor of New York City.
Interior pictures can be found here on Jason DiBianco's Flicker page.
One of the first properties to be restored in Sharon Springs was The American Hotel. Situated right on Main Street and abandoned more recently in 1996, this beautifully and thoughtfully restored hotel is a three-story Greek Revival built in 1846. The hotel has a full service bar and restaurant and the proud owners (as they should be) are full of colorful stories about themselves and the town and love nothing more than floating about tending to their guests.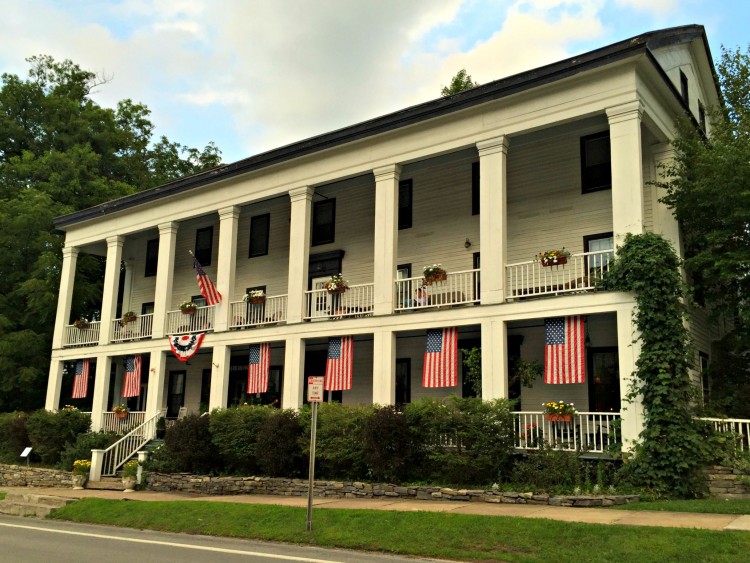 Anther prominent architectural feature on Main St is The Roseboro. This 150-room hotel has banquet, restaurant and retail space and is currently being restored.
One of the other properties included in the $750,000 purchase price I mentioned before is the Hotel Columbia. While there, we were told it may soon be demolished along with its previously demolished, sister hotel included in that package, the Washington Hotel (not pictured).
Finally are the Imperial Baths and mineral springs. The Imperial Baths were also included in the $750,000 purchase. The baths and springs are what drew people to Sharon Springs. As you walk down the path with the gazebo and mineral spring water, you begin to hear water running and smell the sulphur. These structures are so fascinating to me. Our innkeeper told us after purchasing the porperty the owners have done nothing for years. Fearful the town would lose their $1M grant money, they have pressed the owners to begin work. Plans have been submitted and we were told they have already begun the process of removing the asbestos.
So many stories around town (as with any small town) about when this renovation will happen and what is happening with the owners. It will be fun to follow the revitalization of this town over the next few years. In the meantime, my mind's a whirl with the intricate interiors of Roman and Turkish baths complete with columns, arches, detailed tile patterns, stone and marble. If this were mine, I'd host yoga retreats, with the top yoga instructors, meditation and exercise classes, have hot and cold plunge pools, massage, bath and spa treatments centered around the mineral water from the local springs and mud masks made from the soil in the mineral spring river beds. What was a nine-hole golf course years ago, could become mineral pools, meditation paths, and gardens. Food from the gardens or organic, locally sourced farms would be served and the focus would be on an overall cleansing, rejuvenating, spiritual, and holistic approach, a spa for the mind, body and soul.
The last 20 years have seen a growing interest in Sharon Springs as many affluent, second-homers have flocked to the village for its low real estate prices, convenient 3.5 hour drive from NYC, and the latest, growing travel trend, heritage tourism. Most importantly, 177 structures in the village have been listed on the National Register of Historic Places as a mineral resort. The Fabulous Beekman Boys put Sharon Springs on the map in 2010 with their reality TV show (you can see their shop in the above pictures), and the village was also featured in Rachel Rey's Tasty Travel Series. I'm hoping we will be back to visit in 2018, as I can't wait to see what progress has been made.
Until then, here are a few links, if you're interested in following any of the locations above and their restoration efforts.
For Sharon Springs Chamber of Commerce click here.
The Roseboro's blog is here.
The American Hotel's website can be found here.
xo,
Cassandra