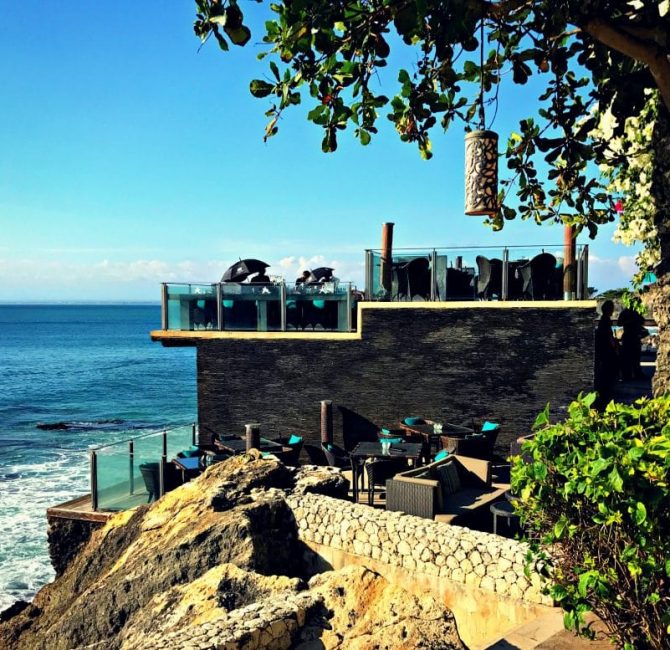 Southern Bali
Seminyak | Uluwatu
When people talk about visiting Bali, it's usually the southern region. This area is dotted with luxurious, high-end hotels, restaurants and shops. This fast paced resort area is congested with traffic, many westerners and offers another view of life on the island than my previous posts.
Royal Seminyak
We stayed at the Royal Seminyak, which was walking distance to shops and restaurants, as well as, right on the beach. We stayed in their largest villa, and I was most blown away by the designs of each of the villa entrances. You can see below how they were inspired by the doors around Bali, and I love a design that gives a sense of place. Each had their own temple offering box built in outside of the door for daily offerings. If you've been to Bali, you know doors are a thing all over the island, from hand carved to hand painted. My greatest regret was not bringing a carved wood door back, but we had two plumbing leaks in our house we were dealing with at the time of our travel, so I wasn't about to add anymore construction or renovating to the house. Most of all, I knew I'd return to Bali someday, so that will be for my next trip. The villa we stayed in had two houses, a black pool, hot tub, and an entire upstairs for outdoor entertaining. Our friends stayed in one house, and we stayed in the other one with the two stories. Basically, we could have lived in this house alone, it was that big. I practiced yoga and meditation upstairs overlooking the grounds, pool and ocean each morning.  As I mentioned in my previous post about Amed, these round, smooth, decorative stones are everywhere, and the Balinese get very creative with the shapes, patterns and layouts they make. Use of local materials and resources is one of the greatest things about observing design in other destinations. Aren't these doors beautiful? And if only I could have bought these chairs and brought them back, too. Adding these to my list for next time, also.
Uluwatu Temple
One of the six key temples on the island, said to protect Bali from evil sea spirits, is Uluwatu. It is one of the most beautiful ascension temples on Bali perched high above the Indian Ocean at the southernmost point of the island. There are several sea temples on Bali, all of which are said to form a protective barrier around the coastal areas of Bali and are visible reference points around the island. When translated, Uluwatu means "something divine at the end of the land." The walk through the trees inhabited by monkeys, up the stone steps with sweeping views, 200 ft above the Indian Ocean, and this divine temple at the end of the land will surely take your breath away. These ascension temples and their placement in the natural world have sacred meaning and one has plenty of time to contemplate the Gods on your walk to the top of the top.
Shopping
Seminyak is a blast for shopping and probably the only reason I would ever go back, because I prefer the quieter areas of the island. Store, after store, after store. It's an easy walk, and most things you'll find are made in Bali, from the very inexpensive to the finest local quality.
Bali is full of feathers, beads, tassels, straw, poms poms, shells, and an array of organic materials adorn everything.
Unfortunately, I don't remember the name of this shop, but kaftans and kimonos are also everywhere on Bali. Isn't this store fun? I got a bracelet from here which you'll see down below. I'll take one in every color please (well, almost every color). 😉 Truth be told, I'm tired of business clothes and could live in kaftans and kimonos.
Frangipani
Loved this store. The dress I have on above was handmade in Bali and purchased at Frangipani. You'll remember in a couple posts back, I wrote about this flower called the frangipani and how it is used for everything. They just haven't figured out how to bottle that sweet smell.
Biasa
Effortless, bold cuts, classy, sophisticated, simplistic, modern resort wear. I love this store, their philosophy and artistic approach. Made in Bali with ever expanding stores around the globe, the Biasa label is growing fast.
Tassels
Well, you would have thought my tassel obsession would have been cured here, but it wasn't. 😉 It only managed to increase the desire to put them on everything! We were almost overwhelmed with tassels. There was every possible color, size and style you could imagine. She even custom made a pair of earrings for me while we waited.
Shoes
Handmade shoes are just like everything else in Bali, very inexpensive. These were less than $40. The lady offered to custom make me a pair of shoes if I didn't see anything I liked, and I could pick them up in a couple days. I did end up leaving with a pair of simple handmade sandals you'll see below, and like Thailand, I had to buy another piece of luggage to bring all this stuff back. Next time a need a container… and a shop in the States to sell it all. 😉
Rock Bar
Located at the Ayana Resort, Rock Bar is carved out of the cliff overlooking the beach. Make plans to go if you're anywhere near the area. You have to get here early and wait, but there are shops on property you can spend some time in. They don't open the bar until a certain time, and seats go fast. It's like the running of the bulls once they allow you in and once the sun goes down to get out. But, it's worth it to get a drink, people watch, and wait for the sun to set. It's like an event all on its own. Servers pass out umbrellas for guests, because the sun is blazing hot, so wear light colored clothes and bring sunscreen. You take a cable car down to the seating area for an experience and view that is priceless.
La Plancha
Probably most famous for the umbrellas and bean bags (and now almost all the beach restaurants have them), La Plancha is a Spanish inspired restaurant which literally translates to "the grill."  Serving tapas, sangria, mojitos and fresh seafood sourced from the seafood market each morning, this spot is one of the best for watching the sunset on the beach.
I got this gorgeous maxi dress from Flory Day, and paired with this bracelet I got from the no-name store above (lol), and the handmade sandals I purchased in Seminyak, isn't this the perfect Bali outfit?
Hope you enjoyed my final blog post in this four part series on Bali. I'd love to know what you think, where you're going next, and if have places you love in Bali that I need to add to my list for next time. Thanks for reading.
Xo,
Cass