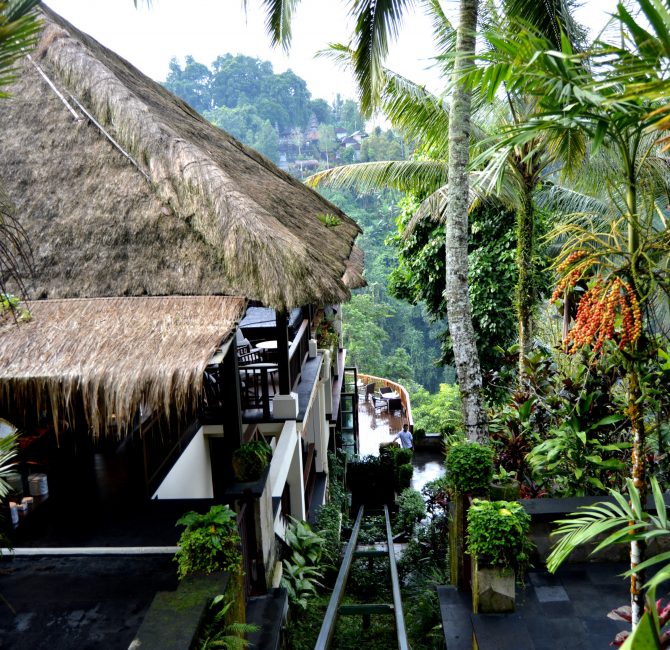 The Island of the Gods
Hanging Gardens Bali
The road to our hotel was as black as the night sky. There were no lights, no streets signs, no nothing. Just thick palm leaves, greenery on all sides and a canopy of hanging vines and flowers hitting the windshield from time to time. With just a few feet in front of the car visible by the headlights, and the constant, grinding, engine sound, indicating our bus might not make it up the next hill, this was turning out to be more of an adventure than I had expected or desired after such a long flight.
When our guide said, "They don't send drivers to your hotel alone at night because of the road," that made the limited visibility even worse. None of us said anything out loud, but by the look on our faces, it was obvious we all thought the same thing. What? What do you mean? Why not? "It's too dangerous," he replied. Instantly my mind flashed to all the stories I'd heard of tourists being carjacked, taken off back roads, robbed, raped and murdered, or their bus falling off a steep cliff on a single lane road, high in the jungle mountains at night. And since I have such a vivid imagination, I took that story a step further by envisioning we would be stuck at the bottom of a ravine in the jungle all night, possibly hurt, no lights, with the sound of jungle animals all around, and either no one would know we were there, or no one could get to us until morning.
I have friends who have visited Bali and raved about it, but that didn't stop my mind from going to the darkest possible places. Every now and then, the trees broke, and with what little light illuminated the night sky and the thick, lush landscape, you could see the road dropped off on either side of the car. Exactly how far down it dropped off we couldn't see, but we knew we were going higher and higher up into the jungle with every turn. We nervously laughed and joked to ease the silence. The first time I saw car lights coming at us on the road, I felt relieved we weren't alone. I thought, "Oh good, there are other people out here." And then the following conversation ran in my head:
Were they dropping off tourists they had murdered or were going to murder? Surely they were coming from our hotel. It's fine. You're being silly. You've checked out the hotel, all the reviews, all the pictures, read every blog post written about it. You're overacting. Maybe so, but do you really know where you're going?
The answer to that was, no. I had no idea where we were going. So much of travel is trusting reputable companies in foreign countries to help you get around, and that's what we were doing now.
Then I realized the road at its widest part was at most, only one and a half lane widths wide, and we'd have to make room for the oncoming car. I went into a complete panic. There was no room for them to pass, and the road dropped off on the side we were on. Once I realized they were barely even going to slow down, and instead, planned on passing us at full speed, I ducked my head down in my arms, and almost as if we were in unison, we yelled out some sort of curse word together as they passed. Once again we all nervously (and thankfully) laughed, realizing we were still alive and somehow managed not to get knocked off the road and fall off the cliff, and questioned why the hell they didn't slow down. It was a long, tense, nerve wracking drive up the mountain in the jungle that night, and each time a car passed there were audible gasps followed by heavy sighs of relief and nervous laughter. I thought we'd never get there.
As we came to a clearing in the trees, we could see lights flickering up and down the mountainside across a deep valley from the mountain we were on. "OMG, what's that over there?" we said. That's your hotel, our guide said. Eyes widened, jaws dropped and we knew then, we weren't going to become dead tourist statistics. Instead, we were headed to the jungle paradise I had seen in the pictures. I wish I could have gotten a picture of the hotel from that vantage point, but there was no way we were stopping on that road. We would find out later, the hotel puts candles around the pool and property every night, and that's what we saw lit up across the valley.
We saw our first sign for the hotel and turned, drove through a very small, very poor village, and then the lobby appeared. Bathed in a soft glow of light, with no walls, the lobby was visible from all sides and the car drove right under the roof. We all looked around in amazement at the integrated design of the driveway and the lobby. Lightly scented hand towels, refreshing lemongrass drinks, beautiful flowers and candles were everywhere. Bali smells like a combination of sandalwood incense, lemongrass and sweet frangipani flower. If I ever go back, I hope I arrive at night again. It was sensory paradise. The two story, centrally located, nautilus shell chandelier in the restaurant lit up at night was a stunning sight as we descended in the cable car from the lobby.
To get up and down the mountainside, there are a series of cable cars, starting at the top of the mountain where the lobby is, then another one down to the restaurant and bar, followed by a final one to get to the villas.
The main dining room and bar overlook the jungle and pool, and similar to other parts of Asia, flowers are everywhere. These orange ones reminded me of hollowed out pine cones.
The walkways to our villa were lined with moss covered everything: vases, statues, and walls and monkeys roam freely around the property.
Our room was the traditional Balinese style design with wood trim and details, thatch roof, and a private infinity pool overlooking the jungle. I could have stayed in our villa for the duration of our stay, but I knew I'd miss so much if I did that. The air in the jungle was soft, moist and cool. I needed a light scarf or something on my shoulders in the morning at breakfast, but by midday the weather was perfect. August is the best time to visit Bali weather wise, but for that very reason, it is also the busiest. Thankfully, there are sarongs everywhere in Bali, so if you get out and get chilly, there is always a sarong nearby. Each room has it's own temple outside the front door with a statue of a Hindu god, and the staff make offerings and decorate them with marigolds each day, another flower commonly seen in Bali. Every detail in the architecture and design of the villas and hotel was thoroughly considered.
Treatment rooms, massage rooms and massage tables are all over the property. If you don't like one room, just keep looking. There are several to choose from. All are open air and many massage tables are situated under open-air pavilions near the river that flows down through the valley. There are small outdoor platforms for yoga, and the entire property is about resting, relaxing and being away from everything. Now I know why it was so hard to get here. All the fears I had on the nighttime drive getting here about falling off the cliff and no one finding me, were all put to rest, because the no one finding me part was a huge plus at this point. The frangipani flower is all over Bali. It grows in parts of the Caribbean, too, but something about being in a new place makes us aware of things we never noticed before. Maybe it was the abundance of these flowers that brought them to the forefront, but I've never noticed or smelled them in the Caribbean like I did in Bali. Not only are the trees everywhere, but the Balinese use them to decorate everything. They also spread them out to dry in the sun, grind them into a fine powder and make a massage oil (among many other things) with them.
Across the valley and over the river is the temple. This Hindu temple has a relationship with the hotel and offers guests the opportunity to dine at the temple after a private Hindu blessing with the priest. We all sat on the ground in the temple with the priest and were led through the Hindu ritual. Each person has an individual ceremonial offerings basket, which contains flowers of different significance, rice, and other organic items. Some you put your head, behind your ears or hold in the tip of your fingers while you pray. Incense are used to cleanse you spiritually and burn all around in the ceremony. They are believed to send our prayers up to God and remove harmful spirits. Bali is the most culturally rich place I have ever been, and I learned so much that it's hard to put to words. After the prayer, we had a candlelight dinner at the temple, under the light of the Moon, surrounded by flowers.
A gecko decided to join us at dinner (somewhere in the thatched roof above), and if you've been to Bali or Southeast Asia, you know how loud that critter can be. I swear they are nocturnal, too. The gecko is all over Bali, and I think his favorite pastime is to make as much noise as possible. Even the littlest ones are insanely loud for their size. If you ever wondered why they are called geckos, YouTube a gecko sound and you'll understand. It sounds like they are saying GEC-KO or UH-OH repeatedly! Our first morning in Bali, I heard a strange noise outside our villa and went to breakfast and asked the staff what that noise was in the wee hours. They said, "It's probably a gecko." Thankfully, their second favorite pastime is eating mosquitoes, so aside from that annoyingly loud noise, they are harmless, and since mosquitoes love me, the gecko can stay. They are also seen as good luck in Southeast Asia and are believed to be descended from dragons. Later there was one in our room (again up in the thatch ceiling) in Amed, and that thing called out like clockwork at midnight every single night. I took this picture of the priest before we sat down for the ritual and blessing with him at the temple. Through the smoky incense and temple lighting, it looks like a column of God-light is shining on him. Pretty much how this entire experience seemed-surrounded by God-light. Now we know why Bali is called the Island of the Gods. The last picture I took from our hotel looking across at the temple.
The first picture I saw of Hanging Gardens in my research was the pool. It was the single most memorable image I saw while trying to figure out where to stay. It's what initially sparked the desire to want to stay here. Bali has the most incredibly designed hotels I have ever seen in one destination. It's as if each hotel is trying to outdo the other one. Consistently one of the top-rated pools in the world, it looks as if it was inspired by the undulating shape of the rice terraces found all over Bali-giving this design a sense of place. Every morning there was an enchanting layer of mist slowly rising from the treetops like a veil lifting away to reveal the jungle before our eyes, and the pool was like a mirror reflecting the clouds. It was magic.
Having been all over the world, it has always been hard to pick an absolute favorite place, that one specific hotel that has it all for me. Hanging Gardens is it, and surprisingly, it doesn't have a beach. I love the secluded feel, the private villas with infinite pools, the food, fresh juices in the morning, the service, the quiet, exotic natural location. I love how close you feel to nature and how far away you feel from civilization. I don't know if it's called Hanging Gardens because of the flowers on vines that hang from the jungle trees, or if it's because it's literally hanging on the edge of the jungle, cantilevered out over the treetops. I found this aerial image on the internet, and unfortunately couldn't find the photographer to give photo credit to, but you can see how it looks like it's hanging on the edge of the mountain.
Hope you enjoyed it. I can't wait to share more about Bali with you in the next blog.
xo,
Cassandra