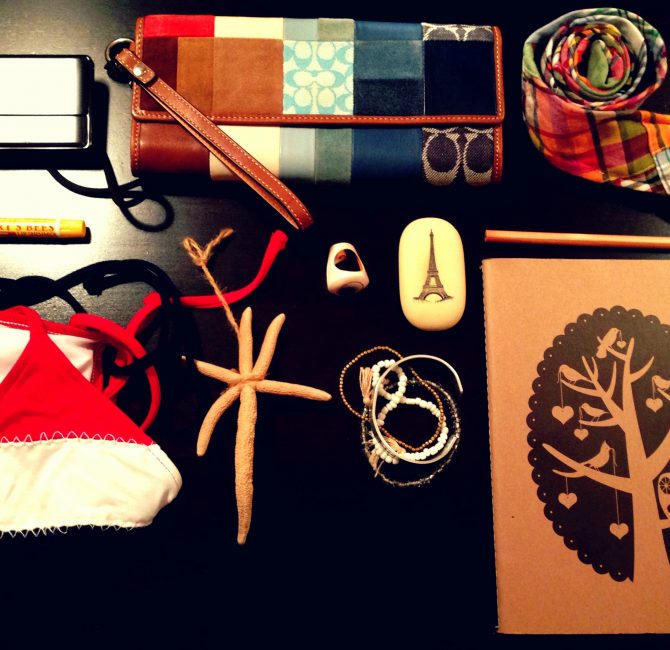 Packing Essentials
So, every trip requires certain essentials, pieces you must have depending on location, weather, activities, etc. I usually start thinking about these things way in advance, as I daydream about my adventures. I like to lay my things out and usually try to pack based on one or two color combinations, so I'm not forced to bring 10 pairs of shoes, belts and accessories to go with each outfit. For most avid travelers, especially those of us who go to Europe often, we've already mastered that and found out a long time ago, nothing is worse than being saddled with too much luggage while trying to get in and out of buses, airports, boats, trains, and taxis. Even the upgraded rooms in Europe are small, so there is just no where to put all the luggage. Most of us have made that mistake once or twice and have vowed never to do it again. Strategic packing is key, and I've found there is an art to it. It's a fun pre-trip challenge I look forward to.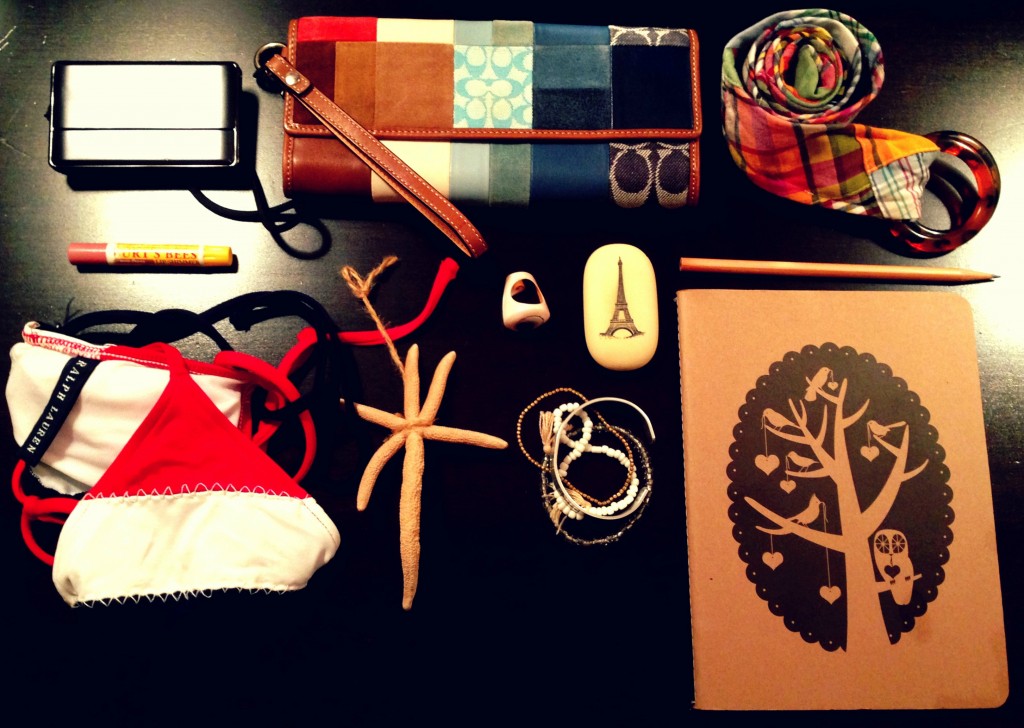 These are some of my must-haves for this beach trip:
The Sony Cybershot is my favorite point and shoot camera. I've had (and lost) several cameras, and this one I have purchased twice. It takes great pics for an amateur, and has a slide down lens cover which protects the lens. It automatically turns itself on when you slide down the lens, so if you need to capture something fast, it takes out the step of having to find the power button. I have damaged and scratched so many lenses and won't even mention the lens caps I've lost.
The clutch my husband bought for me at the Coach store in San Fran about 15 years ago. It goes with everything nautical in my wardrobe and while the patchwork design has some small suede squares on it, it's very durable. I must add, if you don't own a suede eraser from Coach, you need to get one. STAT! It's the best little at home suede care item I've found to take care of your suede pieces. Think Magic Eraser for suede. 😉
The plaid belt with tortoise shell buckle is a staple in my wardrobe. It's preppy, summery, and classic. This one came from J. Crew a few years ago. I have several in different size thicknesses. color combos and styles.
The chapsitck is Bert's Bees. I love their tinted chapsticks. It looks a little overdone to me when I see women on the beach with full lipstick on, but I tend to prefer the natural look, a little moisture and a little tint.
The ring in the center is a shell ring I got in Orange Beach at Tallulah's. Remember those tiny shell rings we had in the 80's they sold at all the cheap souvenir shops? Well, this is the grown up version that is more like statement piece. I get so many compliments when I wear this ring, which always surprises me. It wasn't expensive at all.
The Effiel Tower eraser came from Cavallini and Co. I love all their stationary. I use their note cards and their file folders.
The owl sketchbook came from MODA (Museum of Design Atlanta), and the paper has the perfect tooth. The exterior feels something between a cardboard box and paper grocery bag. They have some of the greatest items in their gifts shop, and compared to most of the items in museum gift shops, they are so reasonably priced.
The three beaded bracelets are inexpensive pieces two of my friends made. The white beads and  grey, translucent beads came from  recently opened The Found Market (more on them after they are fully open), and the tiny beads are hill tribe silver (which you can polish, if you like, but I like the antique gold patina it develops, so I never polish mine) from TISH Jewelry Werks. The small silver cuff was a gift given to me by friends, Ed and Christy, when I was named YCWA's Woman of the Year earlier this year. Unfortunately, you can't see the inscription, but it says "Chart our own course" on one side and a tiny anchor engraved on the other. It was such a thoughtful and completely unexpected gift, and those happen to be my favorite type of gifts. More on my anchor love later. 🙂
The Ralph Lauren bikini is red, white and navy and has a similar style stitching as a sail on a yacht. As I mentioned before, the more you can stay with one or two color combinations when traveling, the better. I can walk off the beach or boat, wearing this suit with a pair of white, red or navy shorts, the plaid belt, carrying the matching clutch, and all these things work together. The camera and chapstick fit nicely in the clutch with my phone and keys.
Oh, and the little starfish I got in Negril, Jamaica about 15 years ago while teaching aerobics at Swept Away resort. I found it on a tree branch that was hanging out into the ocean just above the water. A wave must have come up over the branch and tossed the starfish there where it dried out. I've had a piece of string tied to it and had it pinned on my inspiration board for years and decided it was time for it to go to the beach house.