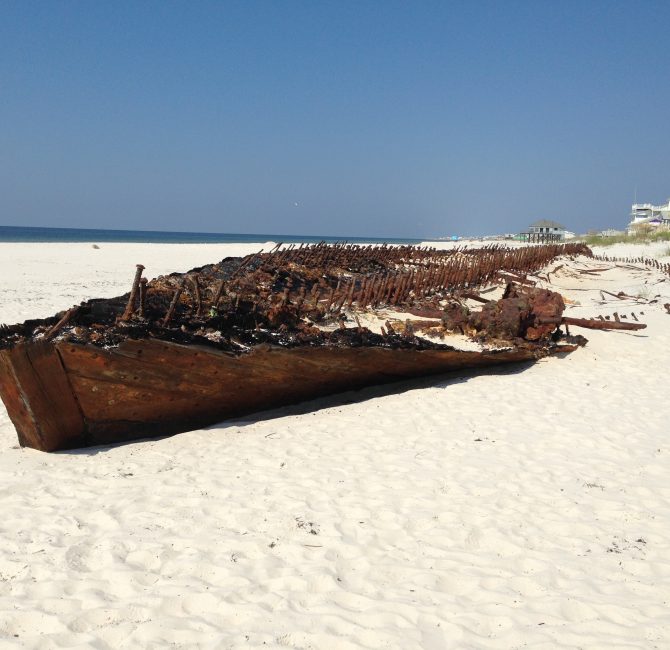 Mystery Ship
Fort Morgan is like reading an adventure book, something like Robinson Crusoe or Pirates of the Caribbean. Its location with the Gulf of Mexico on one side and Mobile Bay on the other already make it vulnerable to severe flooding, then put a Civil War fort at the end of it, add a sunken warship just off the tip, a historic lighthouse, and a shipwreck?? Doesn't this seems like the perfect location for an adventure movie, especially with the small crowds, beautiful white sand and limited high-rises? I'm not sure why Hollywood hasn't jumped on this.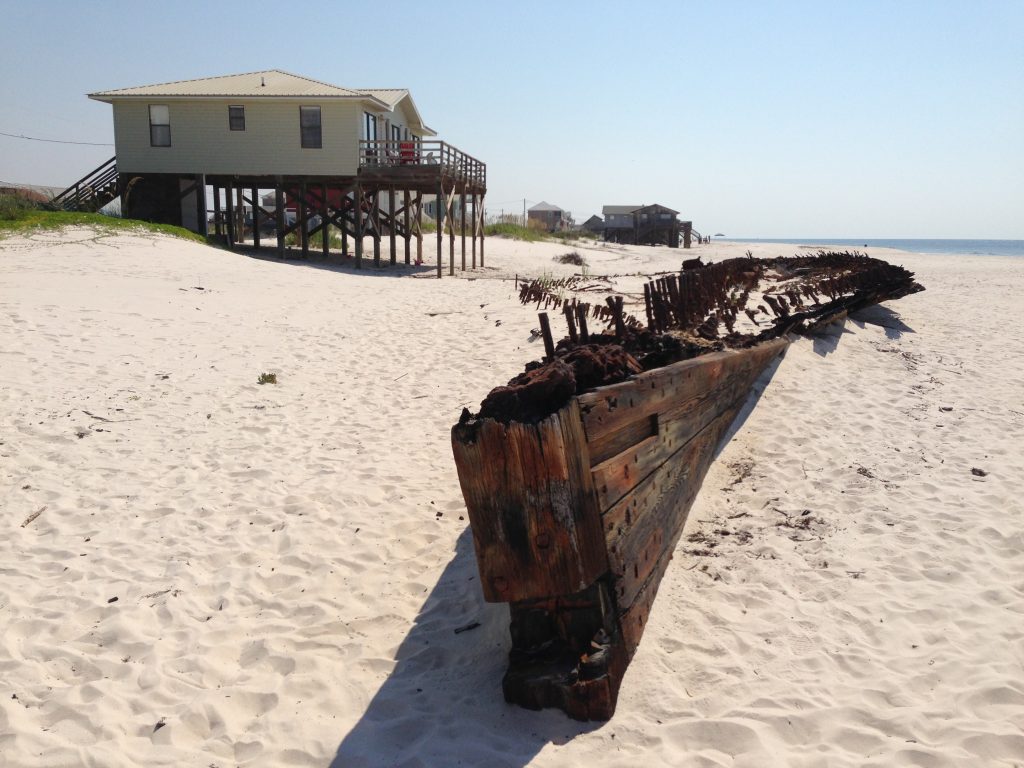 Shipwrecks fascinate me… and frankly, scare me to death. Being a sailor, I know weather can change dramatically, coral grows, sand shifts, topography changes, maps change, and running aground is always in the back of your mind. Envisioning the crew on board making every effort to save the ship, wondering if they jumped and were able to survive, and realizing it can happen to the most skillful sailors are things I think about all the time when sailing. Even if you are careful, weather can be unpredictable and unavoidable.

Affectionately referred to as the Mystery Ship, it is now believed the ship is The Rachel, a 155' Schooner built around 1923. The stories around this boat swirl like the sand that is constantly covering and uncovering it. For the longest time, no one was exactly sure the identity of the boat or the real story behind how it ended up basically in someone's backyard on the beach. And when I say backyard, I mean in the sand, just below their deck. Many stories still exist about the boat being a Civil War era ship called the Monticello that left Mobile Bay in the 1860s, other legends say it was a rum runner and call it the "Whiskey Wreck" trying to smuggle liquor during Prohibition.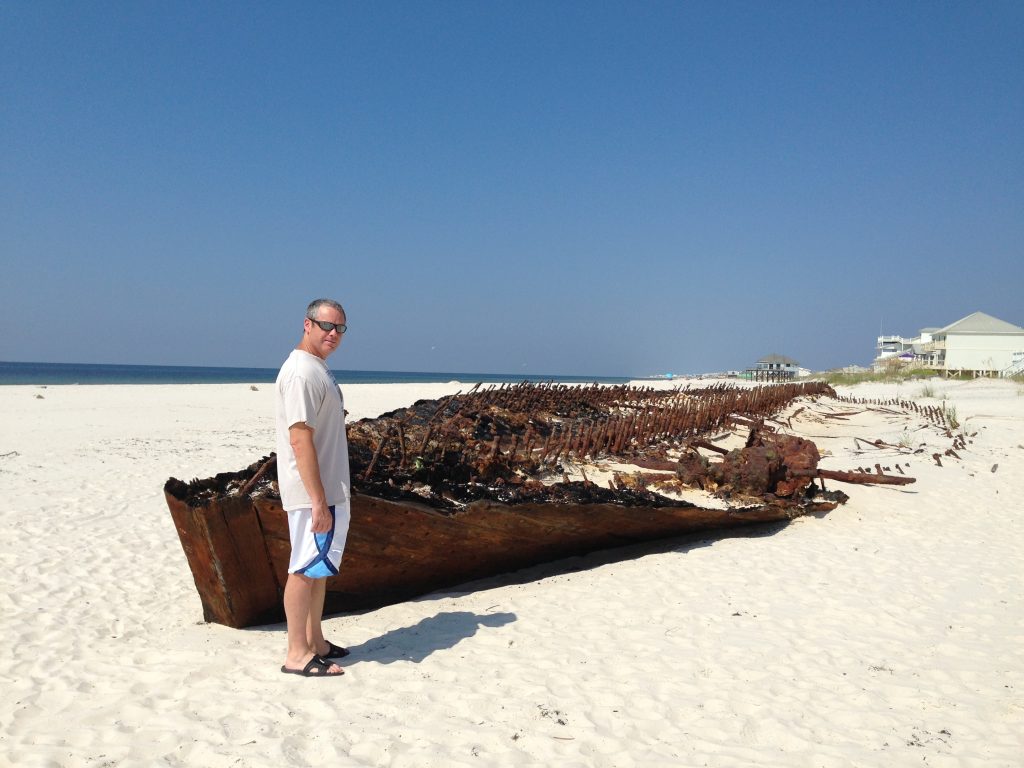 Usually the ship emerges from the sand after a hurricane. This trip we got lucky and were rewarded with the ship being almost completely exposed. The sand had been blown off it displaying everything including the ropes, which seemed to be preserved, showing very little damage or wear considering the amount of time they have been exposed to the elements.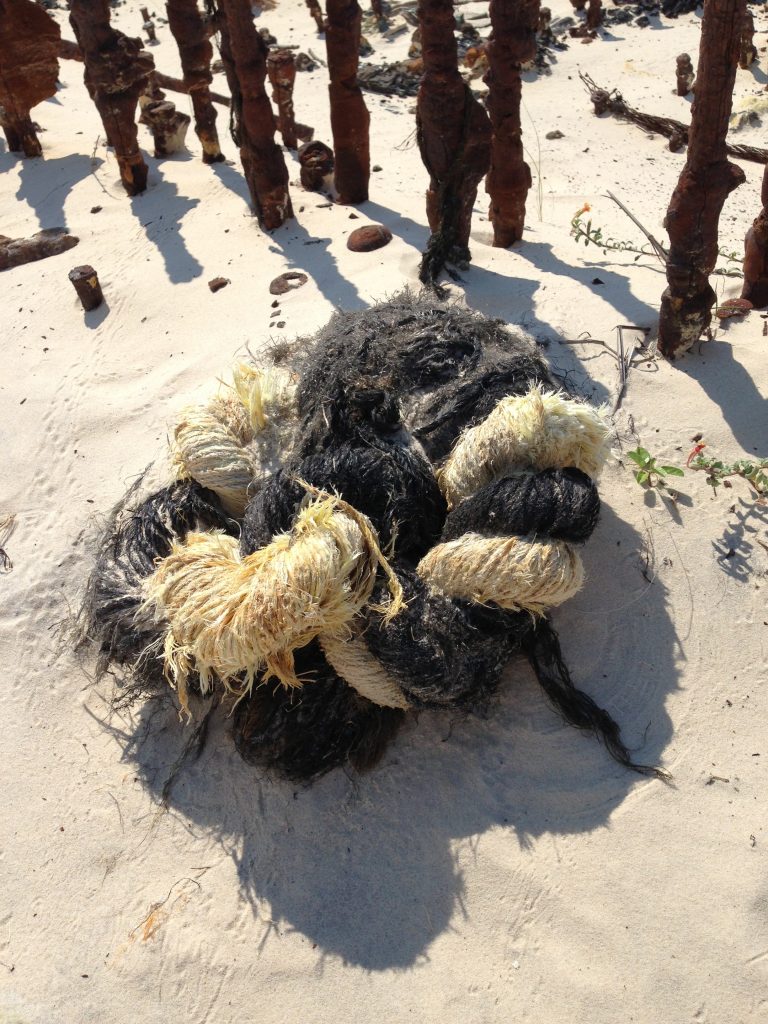 When you drive up, there are no signs, no parking spaces, no fence around it. It's just there on the beach, as if someone left their massive ship in the backyard and forgot it. This interesting piece of maritime history rests amongst all the vacationers and colorful beach houses and umbrellas. This literally represents Fort Morgan in a nutshell. Just like the shipwreck, the entire peninsula seems…untouched.