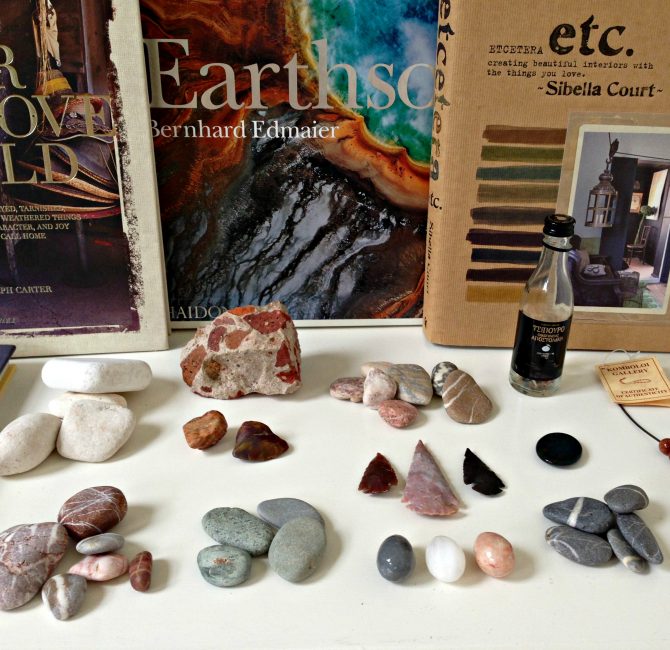 Me and My Collections
So, I thought I would open this new blog with a little about myself, by sharing a few of my collections, and giving readers a glimpse into my  world. Collections are wonderful ways to remember your trips, your past, your family and show what you're interested in.  I always impress upon my clients, when I walk in someone's home, I want to see their personality. I want to know who you are, what inspires you, where you've been, what you've done, what books you read, and how you surround yourself and get your energy. I want to be able to learn those things just by looking around, without you being present to tell me.

I love to travel. Many of my collections began because of my love for travel. While I love the finer things in life, most of my collections have no monetary value at all, only sentimental.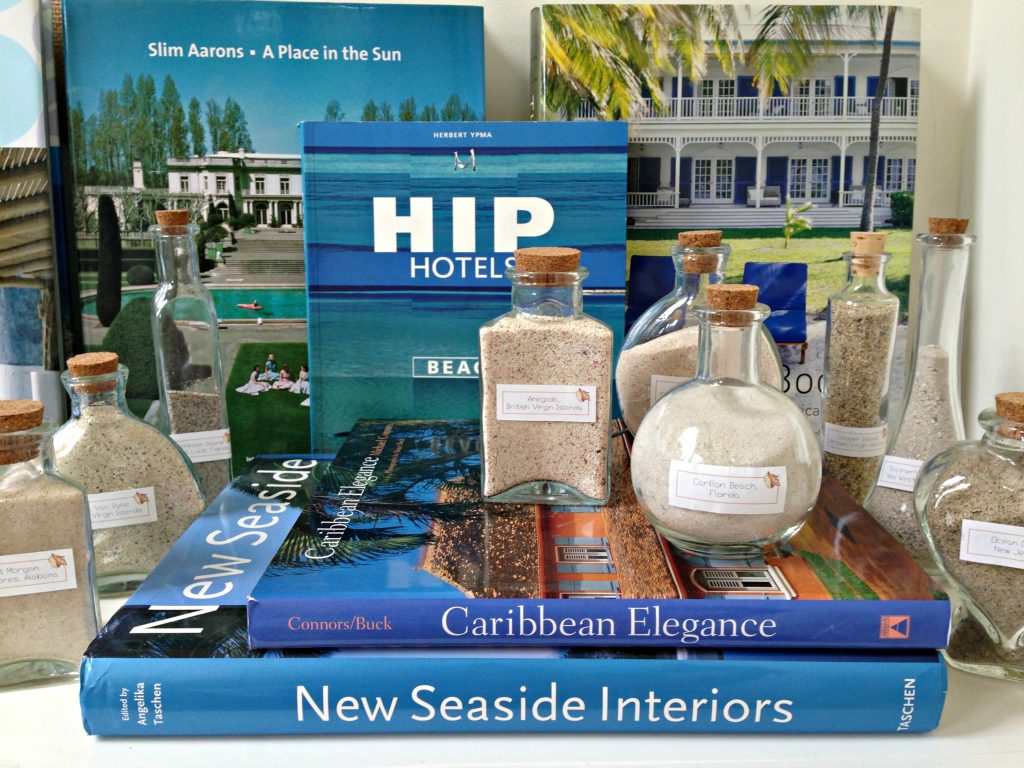 During my early twenties, I traveled all over the Caribbean teaching aerobics. I have been to many islands, and there has always been the notion that someday, we would move to an island during the winter. It's a lifestyle I love. One of my most cherished and inexpensive collections is my beach sand. When I look at the little bottles of sand, they remind me of each of the trips I've been on and all the beautiful places I've been so fortunate to see.  I have one rule with the sand and the rocks I collect. I only collect sand from beaches I've stepped foot on, because for me, it's about actually having been there myself.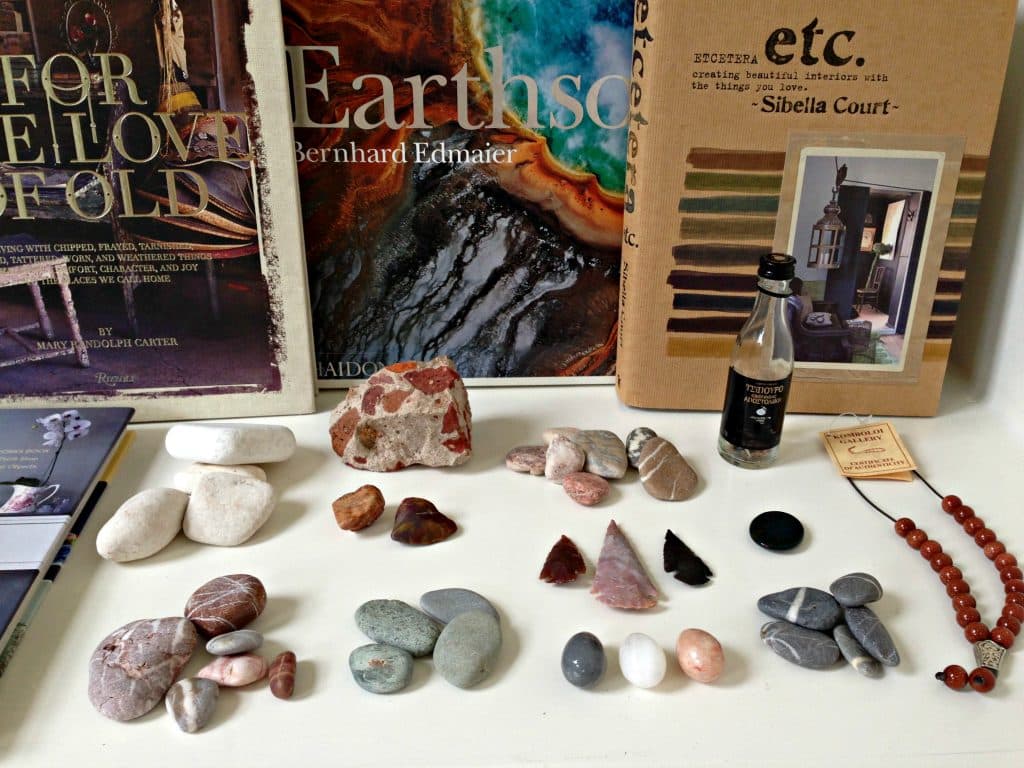 Another one of my inexpensive collections is my rock collection. I don't know why, but I am insanely interested in the earth, things like rocks, sand, shells, and the unique lines, colors, and patterns found in natural objects. What's even more interesting is that different stones are said to have certain energies. My stones have come from all over the world, too. The large stone in the back is from Alcatraz. I bought it as part of the restoration project going on at The Rock years ago when I was there visiting. The two directly in front of it are petrified wood from the Petrified Forest, Arizona. The white marble stones, the multicolored stones in back, the green stones and the grey stones with white lines are all from different beaches in Croatia. The arrowheads are from an Indian shop in Arizona. The round, flat, dark green stone is a worry stone called bloodstone. You rub your thumb on the stone repetitively to calm and draw on the healing powers and transfer the energy from the stone. The three stones in the front are calcite eggs, and the stones in the front on the far left are from a beach in Greece. The beads on the right are kobloi beads. They look much like prayer beads but aren't. The Greeks use them to pass the time, similar to worry beads.
I love to travel. Many of my collections began because of my love for travel. While I love the finer things in life, most of collections have no monetary value at all, only sentimental.
I also love sailing and everything about being on a boat. My husband and I owned a 47' catamaran in The British Virgin Islands years ago and have sailed all over the world. This collection started in Jamaica while rafting the Martha Brae River on a bamboo boat. The long boat in the picture is a miniature version of that boat. A Jamaican man was making these on the side of the river as we were floating by, and he pushed it out into the river to me. I remember scooping it up out of the water and falling in love with it instantly. The little catamaran I got in St. Lucia, also from a local islander. It was the first time I had been on a catamaran and had no idea years later we would own one. The keelboat I got in The British Virgin Islands and is made out of a coconut and a tin coke can. This year, I added the black gondola from our trip to Venice, Italy. This was made by a student on Murano Island, learning the art of Murano glass making.  I love the idea of buying a student piece. As young artists in art school, we need constant, positive feedback while honing our skills. It supports our growth and encouragement, especially when we are timid and scared of criticism. I hope it made a growing artist smile to know their piece was purchased.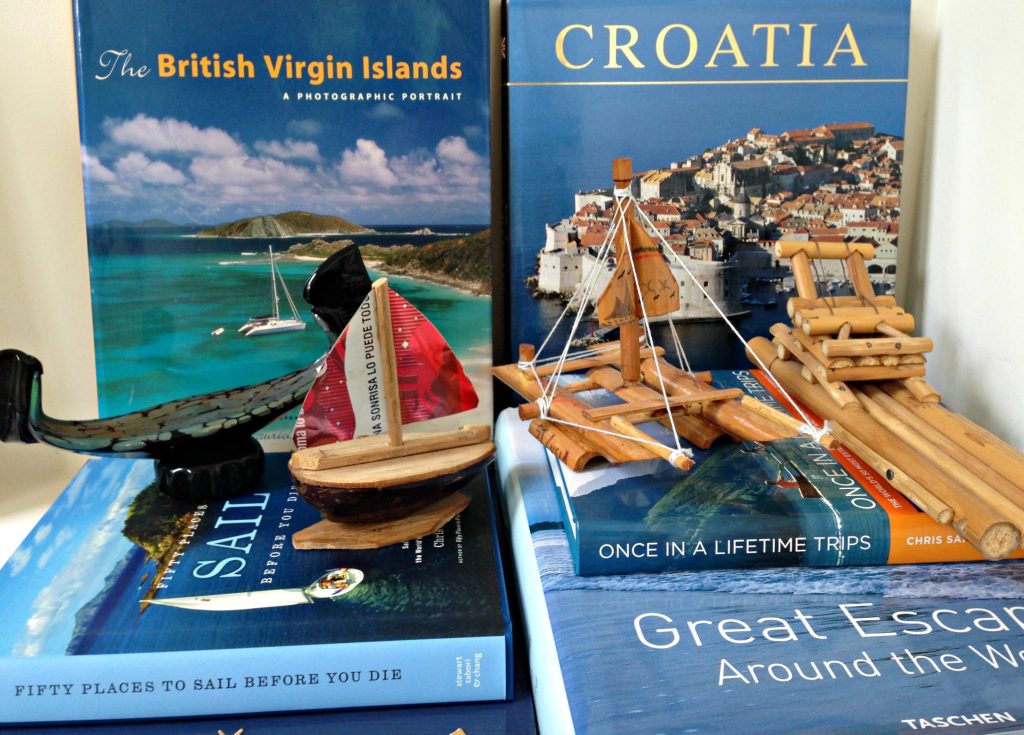 I also love seeing the individual parts of things, how things work, how they are put together and are joined. I love seeing raw work and unfinished surfaces. It's much like seeing artist's sketchbook. I love the moment when I notice a small detail that was there all along, a detail I never noticed before. Playing the violin is a love, hate process for me. It's a difficult instrument to master and requires dedication and patience. I love going to the violin makers workshop and seeing all the parts of the strings instruments. When I go, I like to collect little pieces of unfinished instruments. The scroll and f-holes of a violin are so beautiful, and I love to collect violin, viola, and cello bridges. When I realized there was a heart shape inside the negative space of the bridge, it was like I had been let in on a little secret. I wonder if anyone else has looked down the fingerboard and seen the heart hidden in the bridge.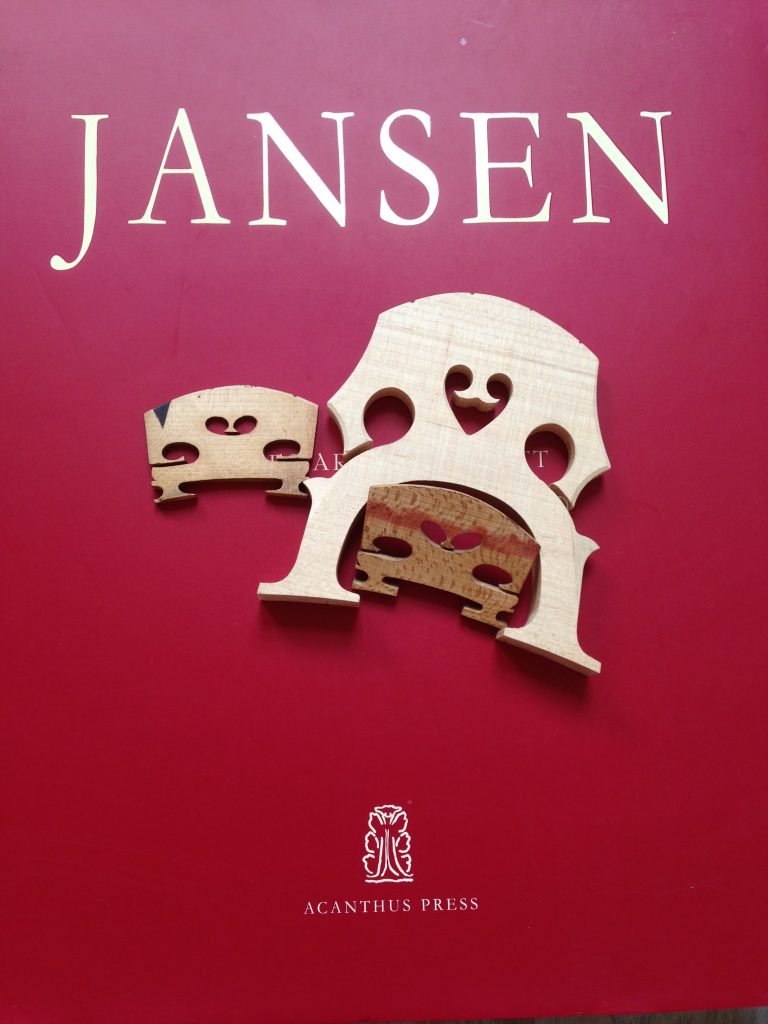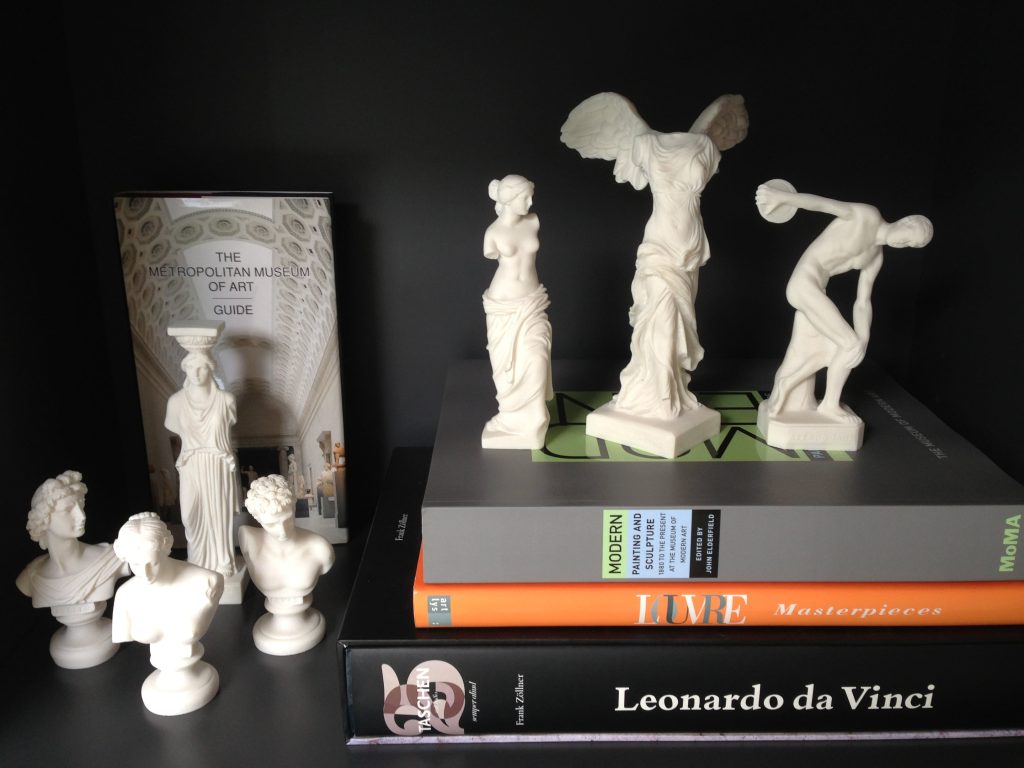 Having a fine art degree means having a lot of art history. I'm surprised we didn't graduate with minors in art history with all the courses we had to take on art history, history of design and history of architecture. My favorite sculpture is the Winged Victory of Samothrace at the Louvre in Paris. I don't think there is another sculpture that enlivens the space around it like she does, and her placement on the landing in the staircase is probably just as important as the piece itself. My favorite gallery in the Met is the Sculpture Gallery. This year, I saw the David statue in Florence for the first time. I have a collection of what I call my mini masters, statues all made from alabaster. They are statues from the master sculptures. I even have a mini Nike.  Now I need a mini David statue to add to it.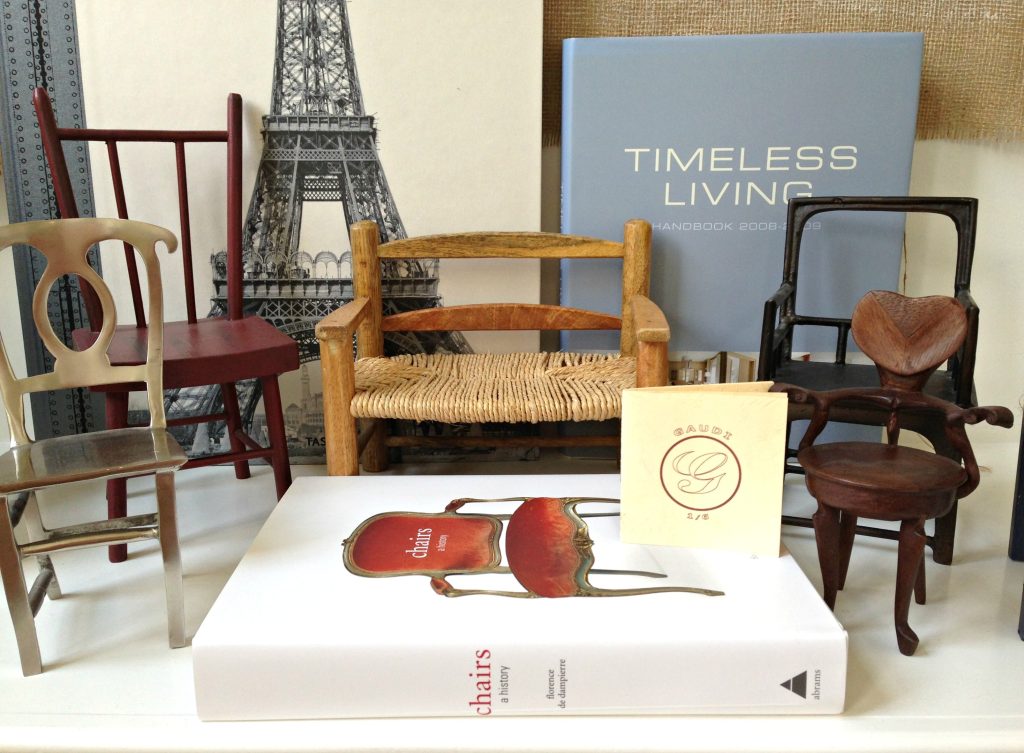 Finally, I'm a designer, and like some artists use oils or acrylics, designers work in the 3D world. While everything starts 2D as drawings on paper, and then eventually in 3D on computers, our medium consists of real 3dimensional objects, like chairs. They're in every interior, whether it's commercial, residential, retail, hospitality, or institutional. Chairs have personalities all their own, too. They have varying seat heights, back, arms, legs, materials and styles. Chairs have such a history most people aren't even aware of, and as designers in college, we studied chairs ad nauseam. We learn the date, style, name, parts, construction and how each era affected the style and evolution of chairs. Chairs, chairs, chairs!! They are our medium. Here are a few of my chairs, again minis. My favorite one is the Antoni Gaudi chair I got two years ago in Barcelona, Spain. It's the one with the heart shaped back.
As you can tell none of these collections would matter to anyone else. They have no real value except to me. I remember where I was when I got each of these items. I remember how I felt and what struck me about each piece at the time. More on my other collections later. Edit and display your collections with meaning to tell a story. I find rearranging them allows me to enjoy them differently. Look for common threads and display books lateral for more interest. And most importantly, when a collection (or anything in your home for that matter) no longer serves you, GET RID OF IT! You don't need it and you certainly shouldn't be keeping items out guilt because someone gave it to you. Happy collecting!! 🙂