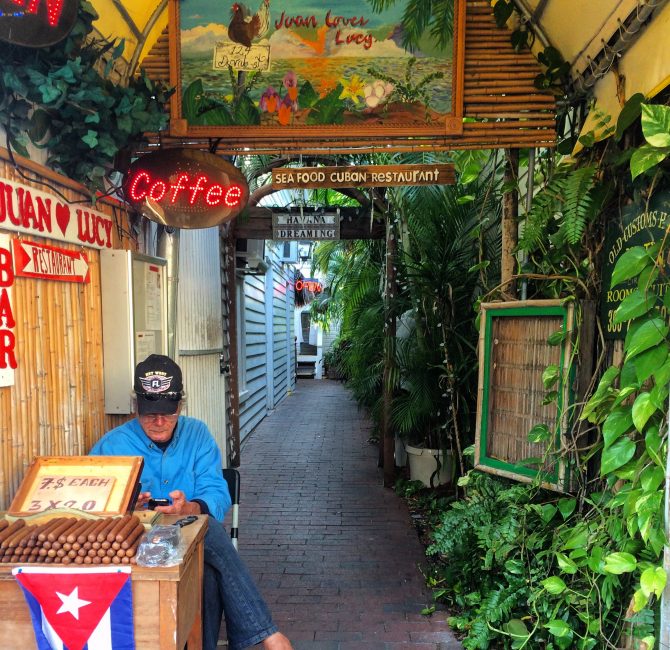 Key West: A Melange of Characters, Cats, and Chickens.
The Conch Republic
The self proclaimed micronation that seems to have succeeded in happily and intentionally isolating itself (not only due to the geography, but attitude, as well) from anything that resembles the real world, has people from all over (including myself) wishing they could do as this author suggests, quit their day job and move to Key West.
Key West is a hodgepodge, a melting pot of people and lifestyles. It's a mixture of races (thanks to cigar manufacturing, there is a large Cuban population), homeless and wealthy, self-trained artists selling on street corners, sailors, hippies, parrotheads (Jimmy Buffet fans), and yep, you've probably heard, drag queens, cats and chickens. There really are all walks of life in Key West, and for the most part, it seems to go unnoticed. There's even a clothing optional bar right smack dab in the middle of Old Town where all the tourists destinations are located. I don't know about your town, but my town wouldn't go for it. The greatest thing about Key West is people could care less about your social, economic, religious, ethnic, or any other status, background, or preference for that matter. It's an island where everyone seems to be just simply, coexisting. I once heard someone say, "In Key West, you can see a famous writer, a millionaire and a girl who sells beads on Duval St. at a bar together." That pretty much nails it. The people of Key West have a quirky sense of humor, too. One the most notable headstones at the Key West Cemetery reads, "I told you I was sick." Seriously…only in Key West.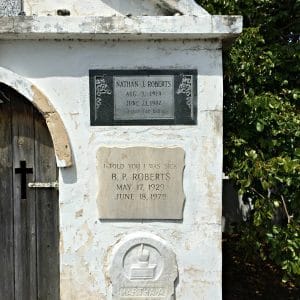 This trip we stayed at the Douglas House. I highly recommend it if you are looking to avoid the crowds. We've stayed all over the island and this trip we wanted something hidden away. This is the perfect secluded place. Located on Amelia St, the Douglas House has a secret, tropical garden, small pool and is walking distance to everything on that end of the island, including the beach. You can easily pick up a pedicab to reach the other end, if it feels like it's too far to walk.  Be sure to get a crepe at La Creperie Key West right down the street and try Cafe Moka for coffee and pastries. This end of the island has more unique shops, galleries and boutiques, where as the other end of the island has more cheap, touristy shops, selling things like t-shirts, hats, and various sundries and souvenirs.
I don't think there is another place on earth quite as colorful and idiosyncratic as Key West. The concentration of artists living on the tiny island must be greater than anywhere else in the world. Honestly though, how could you not be creative here? There's so much inspiration all around the island to paint, draw, write and sing about or anything else you can think of…and believe me, people have thought of it. You can head down to the sunset show at Mallory Square to see just that, odd shows of creative, street performers, jugglers, and yes, flying cats. Let me get my hazmat suit first, otherwise I might have to be carted off from an allergy attack with all those cats.
Not only are the cats at Mallory Square famous, but so are the Hemingway Cats. These six-toed cats live at the Hemingway House and there is said to be 40-50 of the polydactyl cats living there today. Some of the cats are descendants of the original six-toed cat, named Snow White, given to Ernest Hemingway by a ship's captain. Thanks to the Hemingway name, these cats are pretty famous, but another critter roams the streets of Old Town, and is frequently depicted with all the other Key West icons, the Gypsy Chicken.  Known as Gypsy Chickens because they roam freely around town, there are a couple stories about how these chickens got to Key West, why they're roaming the streets, and even more stories about attempts to remove them and the backlash to protect them by people who wanted them to stay. You can read more about that here.
One of my favorite things is the architecture. The conch house is the vernacular style of architecture in Key West. These are small, colorful cottages previously occupied by cigar manufacturers. Many houses and shops have extensive gingerbread detailing and fretwork in the shutters, porch railings and gable brackets. Having gone so many times, we've done most of the tours already, but we were so lucky to be there during the weekend Old Island Restoration Foundation was having their home and garden tour. Unfortunately, photos were not allowed inside, but I highly recommend it, if you can schedule your trip around one of their tours. The upcoming dates are listed here. The houses are tiny and the yards are even smaller, but they make use of every square foot. I didn't know pools could fit in such tight spaces until I saw the backyards of homes in Key West. Here are a few of the pretty details I saw this time. I love the colors of the Southernmost House, and that day I happened to match the architecture.
If you've never been to Key West, you have to stop at Sloppy Joe's and Capt Tony's, both legendary bars in Old Town. When I'm feeling nostalgic, I stop in, but for the most part, I prefer the not so touristy places. Capt Tony's is the oldest bar in Florida and the bar Ernest Hemingway spent many nights. This is also the bar where Jimmy Buffet got his start, often playing for nothing more than tequila. This location is the original Sloppy Joe's before it moved across the street. If you visit the Hemingway House, Ernest Hemingway's residence in the 30s, you'll see a fountain in his yard. This fountain serves as a water supply for all the cats but was originally the urinal at Sloppy Joe's. Below are pictures of both locations and the urinal at Hemingway's home. You can see how close both bars are to each other. Amigos Tortilla Bar, across the Street from Capt Tony's, has the best vantage point of both locales, along with really great food, which is where these pictures were taken.
There are so many great places to eat in Key West. Two of my favorite places are Blue Heaven and Kelly's Caribbean Bar/Grill and Brewery, which aren't on Duval St. Blue Heaven is a bit tucked away in Bahama Village and Kelly's is about a block off Duval. In Key West, even one block off Duval makes a huge difference in the experience, unless of course you like being with the masses. Blue Heaven has been featured on many travel shows and is now becoming one of the more well-known places, off the beaten path.
Kelly's Caribbean Bar/Grill and Brewery is the original birthplace of Pan American Airways. The first International flight from America took off from Key West headed to Havana, Cuba and tickets were sold from this historic location in 1927. You can read in detail about that historic flight here. The restaurant is owned by Kelly McGillis from Top Gun and displays original PanAm posters and the bomber jacket she wore in the movie that we all wanted. Like Blue Heaven, Kelly's has great food and a great patio that feels secluded from the craziness of Duval.
So much to see and do in Key West. The town is so colorful with a history of characters, events and a patina unlike anywhere else. I love the colorful conch houses, Victorian architecture and gingerbread detailing, but this is how I prefer to think of Key West. The way it was in the days of Ernest Hemingway and Tennessee Williams, in the sepia tones of the past. The high days of cigar manufacturing, sponging, and fishing. The thought of old Key West, the writers and artists, Panama hats and white linen pants, tall ships, pirates, and old salts, gypsy chickens, six-toed cats, and millionaires and hippies alike riding their bikes to Duval for a drink all conjure up romantic images for me.
Hope you enjoyed it!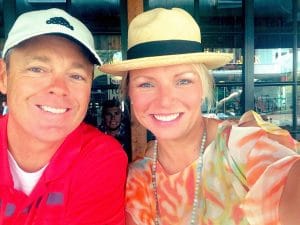 xo,
Cassandra