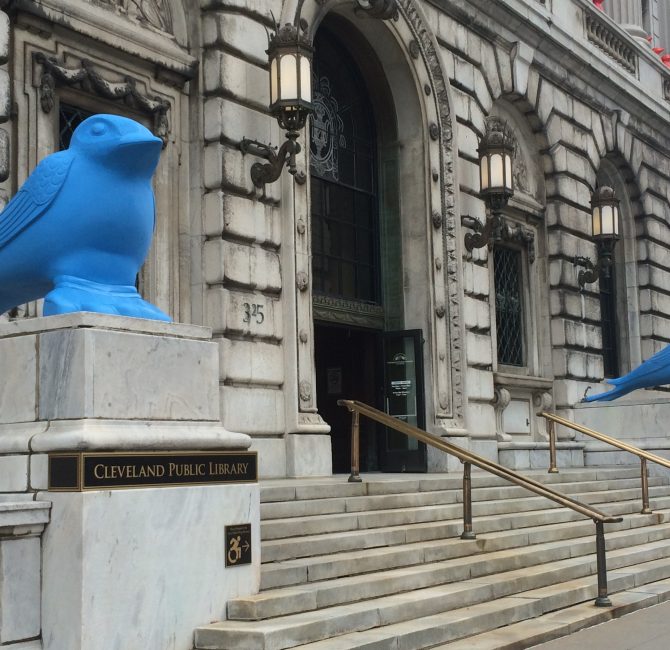 Believeland
Cleveland: Reinvention, Redevelopment and Adaptive Reuse.
I'm sure when you hear Cleveland not much comes to mind other than cold weather and a gray, dreary, industrial city that lacks arts and culture, but Cleveland has done so much in the last three years. The downtown in particular has come a long way. So much so that it is even becoming difficult to find an apartment in downtown. This city is full of architectural beauties, old industrial buildings, trendy restaurants, and with all the sports venues and a casino within walking distance of the central downtown area, this makes getting around on foot so easy. Cleveland is a model for adaptive reuse, and you can see examples of it all over the city.
Clevelanders are more proud of their town than any group of people I've ever encountered. They are loyal fans, strong supporters of their city's progress and future, and have a great deal of civic pride, hence the nickname, Believeland. Forget your preconceived notions about Cleveland, and check out how this comeback city is drawing people back with the downtown's current revival. By conserving and converting historic buildings and warehouses into mixed use developments, the city is reinventing itself and urban life by integrating its industrial past into present day cultural experiences.
Giants like I.M. Pei (Rock and Roll Hall of Fame building), Frank Gehry (Peter B Lewis building) and others have left their architectural mark on the city, and looking up holds many rewards for those who are aware (as you'll see below). There are some highly detailed ceilings in many of the old buildings, and the first place we stumbled upon was the 5th Street Arcades. While stopping for coffee at Pour Cleveland, which just so happens to be conveniently located next to the 5th Street Arcade, I found this masterpiece below. The ceilings, tile work in the entrance, and full arcade with shops and restaurants is a little like stepping back in time. These historic arcades (there are two in Cleveland) have played an important roll in social life in Cleveland, both past and present.  Places like this inform my work and make me a better designer. It's a reminder to me to always consider every possible aspect and detail of a space.
Next door to The Cleveland Public Library is the Howard Metzenbaum Courthouse building. This classic Beaux-Arts style building was inspired by the Place de la Corde in Paris and is situated on Cleveland's Civic Mall and Public Square. Although we didn't go in, I couldn't help but take pictures of the statues, railings and sconces on the exterior.
The Cleveland Public Library, also Beaux-Arts style, has incredibly elaborate interiors, including the ceilings. One of my favorite things was how the rug design mimicked the ceiling design. The globe pendant light hangs in the main entrance, and the allegory of art (the painting on the ceiling in a cross pattern) depicts the four major arts: musical arts, graphical arts, industrial arts and theatrical arts. The blue birds on the front pedestals are part of an art installation by Cracking Art Italian art collective. Even the smallest details are beautiful, like the marble floor indicator dial with brass arrow and star, again, another little reward for those who pay attention. These are things that make a place truly special. Unfortunately, technology has replaced so many of these original treasures. A library worker told me the ceiling work was painted on a canvas in the basement and applied on the ceiling.
The Cleveland Museum of Art holds its own with many of the finer museums I've visited. Again, I was completely blown away to find an art museum of this caliber in Cleveland. With a $650 million dollar endowment, it's one of the wealthiest museums in the country, and it's also free. The Neoclassical building, again in the Beaux-Arts style, with Georgian Marble (yes, Pickens County, Georgia for the local readers) is worth a visit on its own. The museum has undergone many additions and renovations and most notably, the North Wing was designed by famous Modernist architect and furniture designer, Marcel Breuer. Several important works and pieces I fell in love with are below, including two pieces by Tiffany & Co.
Withing walking distance of the 5th Street Arcades is East 4th Street. This pedestrian only, little side street with restaurants and patios opening out European style, is simply a must. You really need a week in Cleveland to try  all the good restaurants on this street. String lights and flowers line the walk and patio fences, and it's such a great place to meander and people watch. Micheal Symon is Cleveland's culinary claim to fame. Every city has their chef that invests in their town and opens one or more really hot dining spots and he is their guy. Two of his restaurants, Mable's and Lola's, are on East 4th. We did our own hopping around to try a few places and went to Mabel's (pics below), Butcher and the Brewer and Erie Island Coffee. I have to say, even though it wasn't Southern BBQ, it was still pretty good. Red is also a great restaurant right in downtown, and for non-steak eaters like myself, the sides alone were worth the trip.
There were so many other beautiful details all around the city. The ceilings below were from inside Jack Casino, also located right in downtown. Hessler Street was another gem I stumbled upon leaving the Frank Gehry building headed to the Museum of Contemporary Art. This historic and charming street on the National Register is located in University Circle and has an annual art fundraiser to help maintain the houses, which unfortunately, looked like they could use a lot of TLC. One of the rarest finds was Hessler Court which runs perpendicular to Hessler St and still maintains the old Nicolson Pavement, or wood block pavement. This is one of the few streets in the U.S. to still have this type of paving material. The Hessler community has kept the wood block for its historical value, and you can see the detail in the pictures below. From a distance, the street looks like a regular cobblestone street. Many streets were paved with wood, because at the time, it was easier to find than stone. Horse hooves were much quieter on wood streets, too. I even loved the trash cans in this district. Cleveland is using every opportunity as a canvas for art. Also surprising, Cleveland claims the second largest theater district in the U.S., outside of New York City. Playhouse Square shines like a beacon down the street with several brightly lit marquees and the largest outdoor chandelier in the world.
Cleveland is full of art, history, culture and food. It's experiencing its own little renaissance and there are many other cultural and dining areas around the city like The Flats and Westside Market, but I'll save those for the next blog. Hope this inspires you to cast off those old images and ideas of Cleveland and give it a chance. Before I left I had a friend say, Cleveland is the new city of brotherly love, and I couldn't agree more.  The people are equally wonderful.
Thanks for reading!! XO
Cassandra