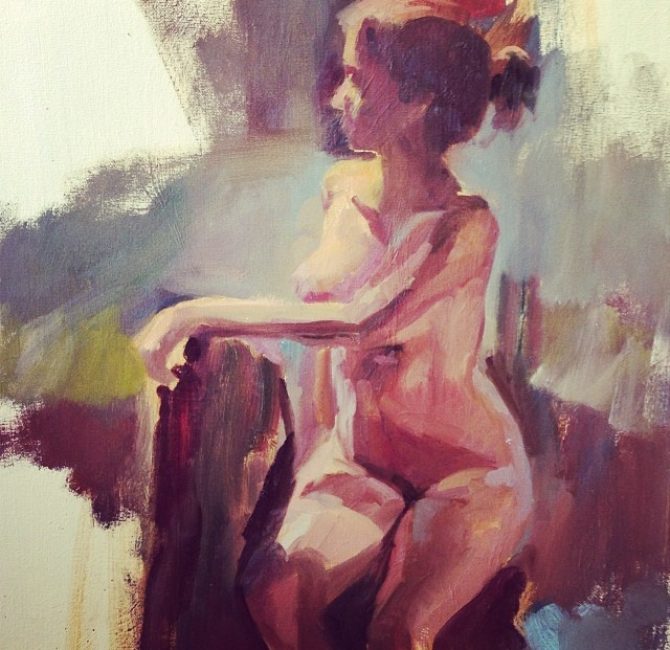 Art Mob Studio Tour 2013
Touring the studios of local Atlanta artists
The weekend of December 15-17th was the Art Mob Studio Tour 2013 here in the Metro Atlanta area. Created to introduce local artists to people in the community, the tour is much like an open house and offers a great way to see the process of creating pieces and the private studios where the artists work. It's chance to get to know the artists and chat one on one with them. It's a opportunity to ask questions about their pieces and also get a glimpse of many pieces still unfinished that may be heading to a gallery.
There are so many artists and locations on tour and only three days to see them. When I attend things like this, I'm always torn between rushing through trying to see everything and just getting the Reader's Digest version, or spending more time focusing on just a few and risk not seeing everything. I'm the same way when I travel. I mean, what if I miss something really fabulous?? Below is a map of the participating artists that were on the tour.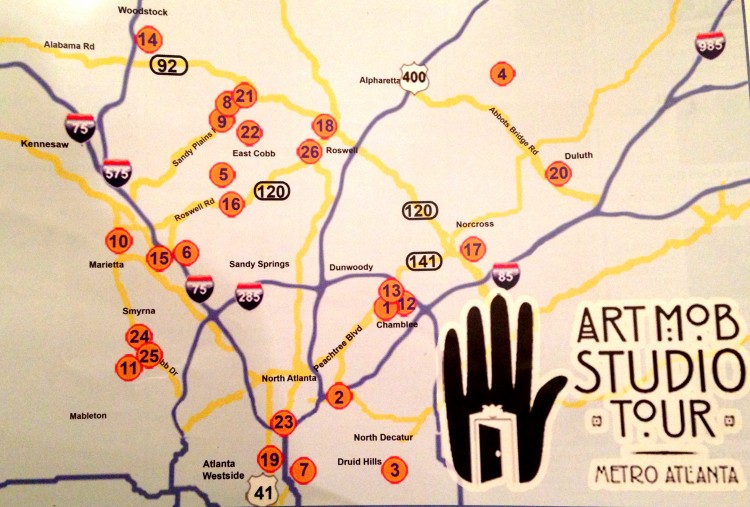 Having come off a very busy week, I decided to take it easy and not rush through. With two friends participating in the tour and in locations where other artists would be, I decided to stick with their locations only, The Artisan Resource Center in Marietta and Above Ground Studios in Chamblee.
The Artisan Resource Center is a 43,000 sq ft space with 25 studios and some of the most creative artists and craftsmen in Cobb County. I went there to see friend Shane McDonald and wanted to stop in and meet Helen DeRamus, whose studio ended up being next door.
Shane is one of the most talented and detailed artists I know personally. His fine art portraits are my favorite, especially this one below painted from a live, nude model.

Below is a picture of Shane and some of his figurative pieces in his studio. Even in these shots you can see the detail in the musculature and anatomy.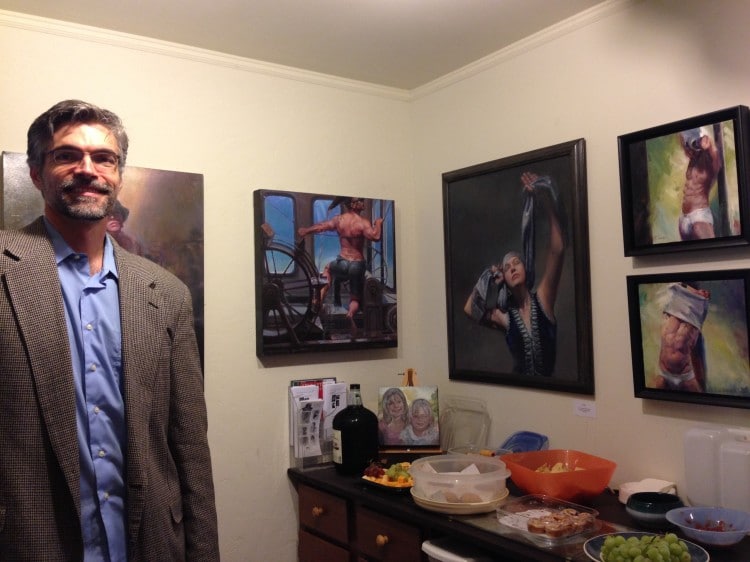 In addition to teaching at Kennesaw State University, Shane is also a talented graphic designer and illustrator and teaches many workshops and classes at his studio. Below is one of his students who was there painting the day of the tour.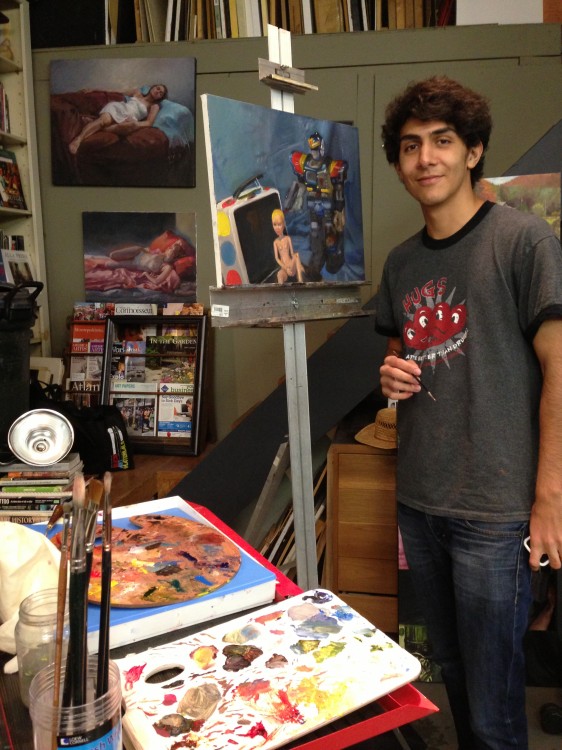 Sharing the studio with Shane is his partner, Mathew Craven. Being a lover of architecture, bridges and just about any structure in the built environment, Matthew's work speaks to me because of its geometric, architectural look.  In fact, the large piece on the wall is the George Washington Bridge, and you just about can't get more geometric than that structure. Believe it or not, Shane and Matthew both said the pieces I've featured here aren't complete yet. Seriously? They look perfect to me!!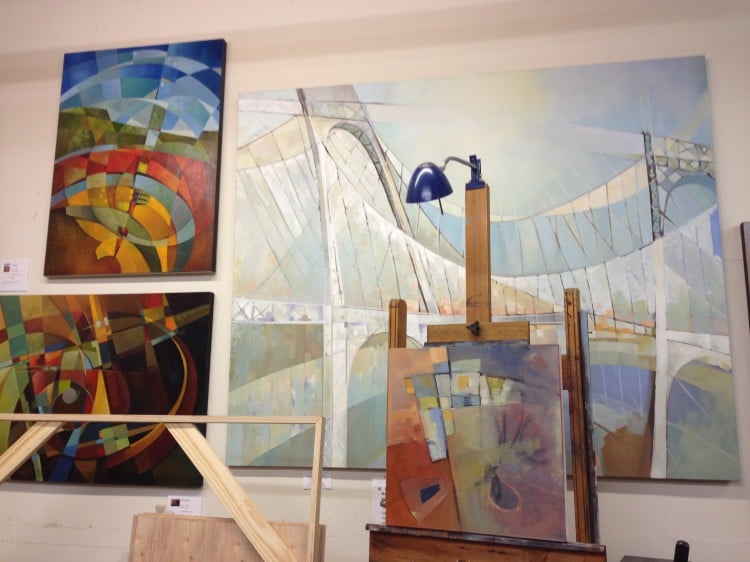 Matthew likes exploring many mediums including fine art ceramics. Below are several more of his pieces.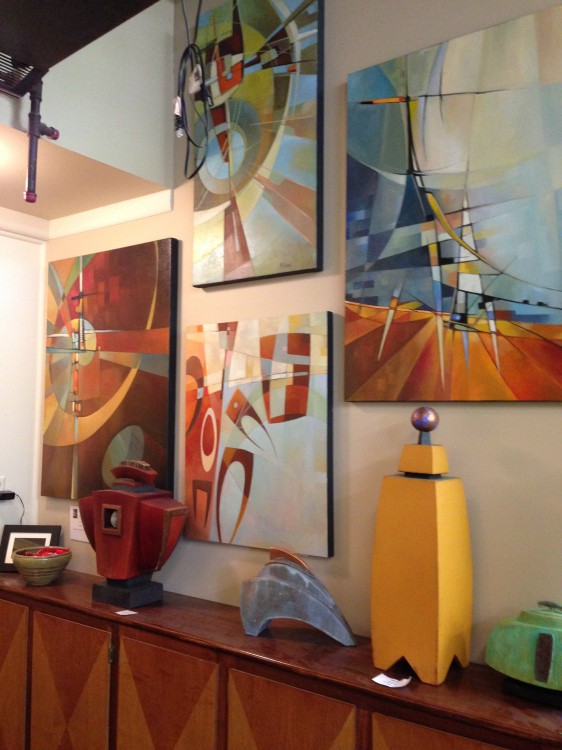 And we were even treated to a little ballroom dancing, since Shane's dance partner was there.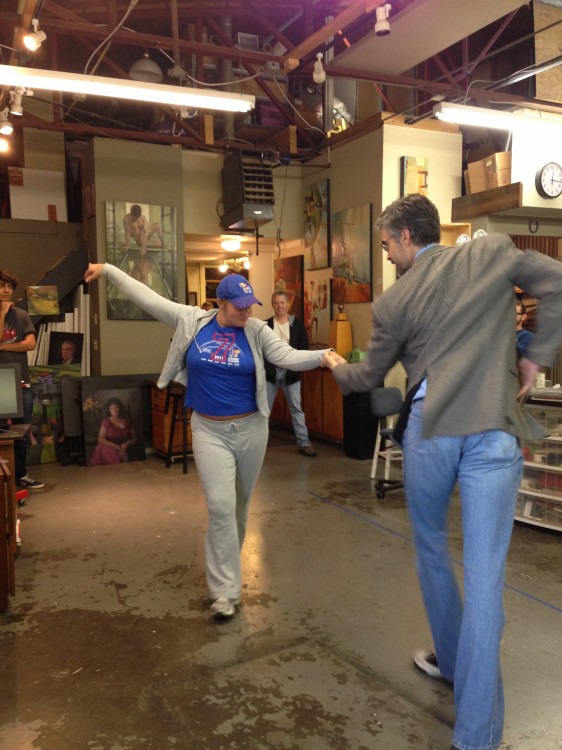 After leaving Shane and Matthew, it was time to head next door and see Helen DeRamus. Having been a fan of her encaustic work, I was really excited to see her studio. Her work always has a dreamy look to me. The translucent wax gives it a soft, soothing quality that looks ethereal at times.
Helen took the time to explain the process and showed me how the wax works. And yes, that's a large kitchen griddle!
She prints images onto silk and applies the wax over it.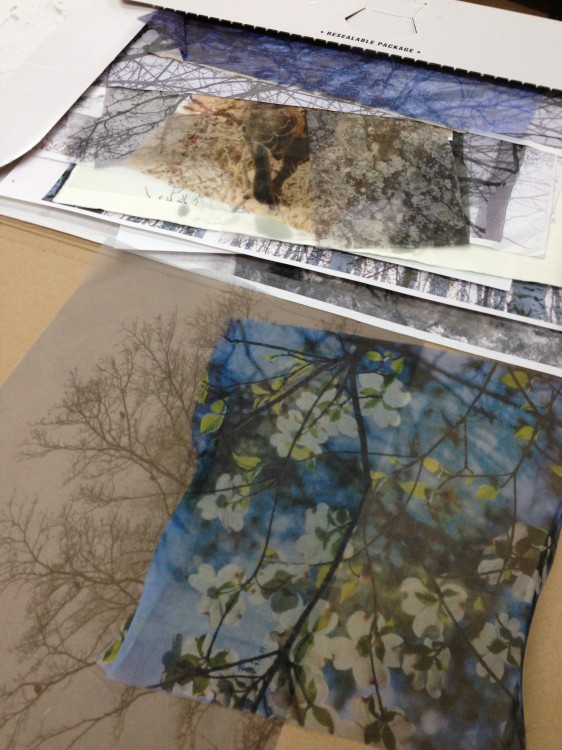 Images are applied to the board and a small layer of wax is painted over it. She builds layer upon layer depending on how thick and how much of the image she wants to show through.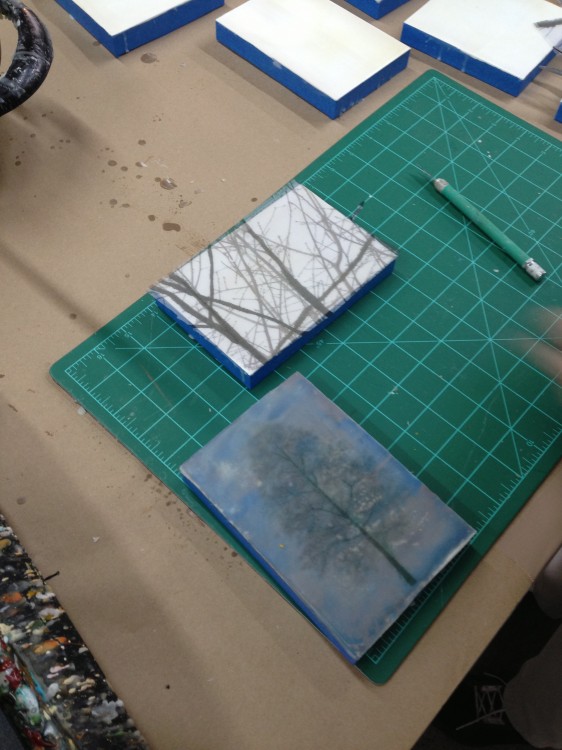 She then mixes in color, as she has in the below picture.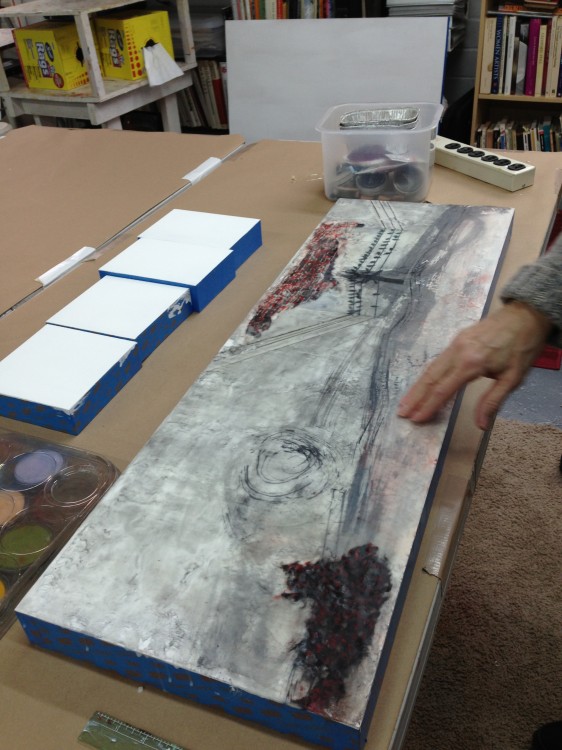 Below is a sample of the finish product.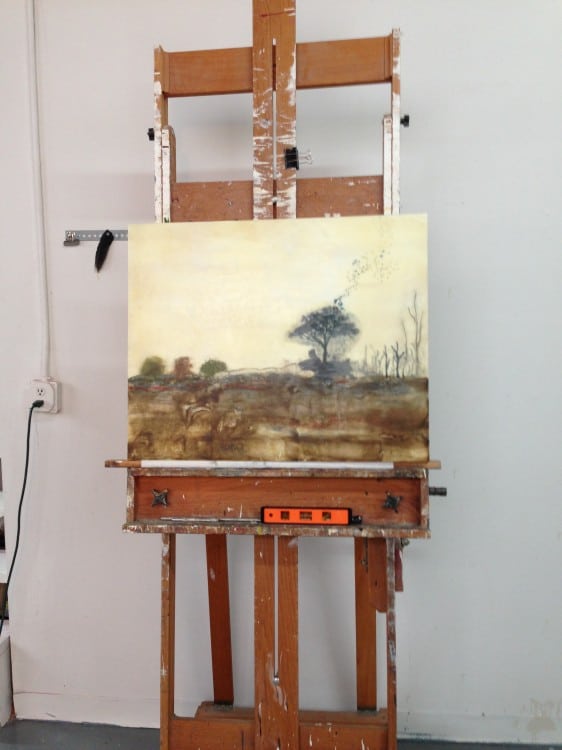 Even more exciting is that she is teaching a workshop in February, which I am dying to attend! Since I much prefer texture over color, this is the perfect medium for me.
Next stop was Above Ground Studios. My friend Deb Rosenbury and her business partner Lisa Huggins have been making unique handmade items since I have known them. They ship items to shops all over including Gilcrist Gilcrist in Nashville, one of Taylor Swift's favorite stores. The building itself is something to see. Recently built to look like an old factory, everything about this place is spot on. Imagine stalls like an antique shop or flea market, but for artists. All working studio space (you can see paint, canvases, and materials readily available), and a small place to showcase their work, if clients come by. Talk about inspired!! I was ready paint something just being in building. The first floor is Dryads Dancing, a retail shop selling items manufactured on site from reclaimed materials. The second floor is the studio spaces.
The picture below was taken on the first floor on the building in the retail area.
Now for my favorite part…the studios and art!
First stop, my friend's studio, The Found Market. We share a similar love of all things white and neutral. Everything is handmade from old sweaters, linen, feed sacks, felt and anything else they can find….hence the name, The Found Market. Even those who love color will find something. Keep an eye open! Several of the pieces here will be making appearances in my Winter Wonderland installation at the Earl Smith Strand Theatre in December.
Below are some of the other artists and their studios. Many I talked to personally and all were thrilled to talk about their work and their new space which just opened.
First is a sample of Clara Dodd Blalock's large scale abstracts.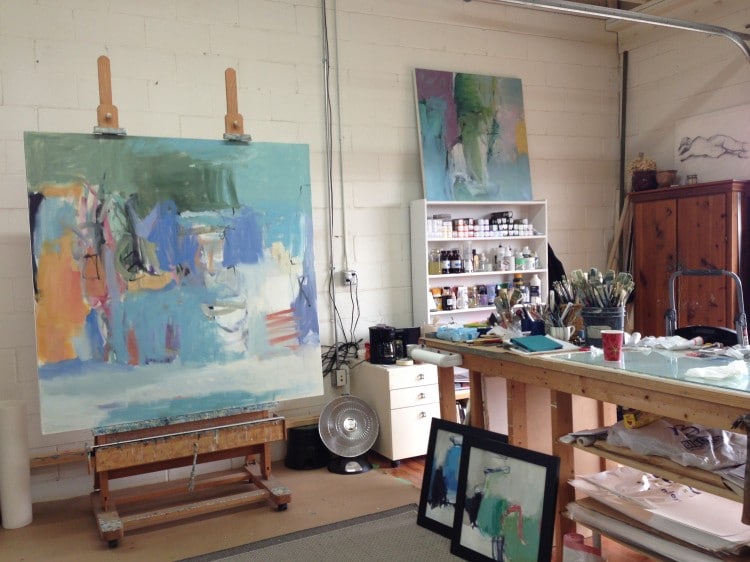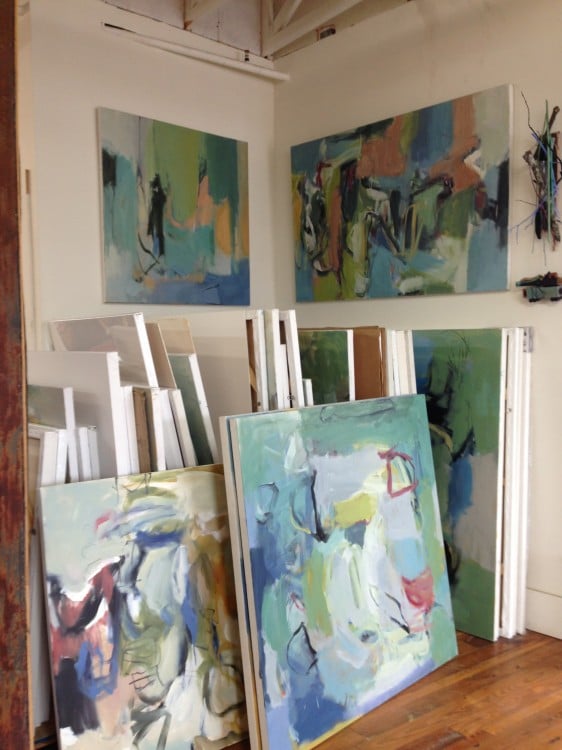 Joel Barr's bold work can be found here and below. His work includes abstracts, landscapes and cityscapes, sculpture and mixed media.  I love the large grey face in the second picture below. Like Shane and Matthew above, and much to my surprise, he also mentioned this piece wasn't finished. What? Forget finishing it. I'll take it as is!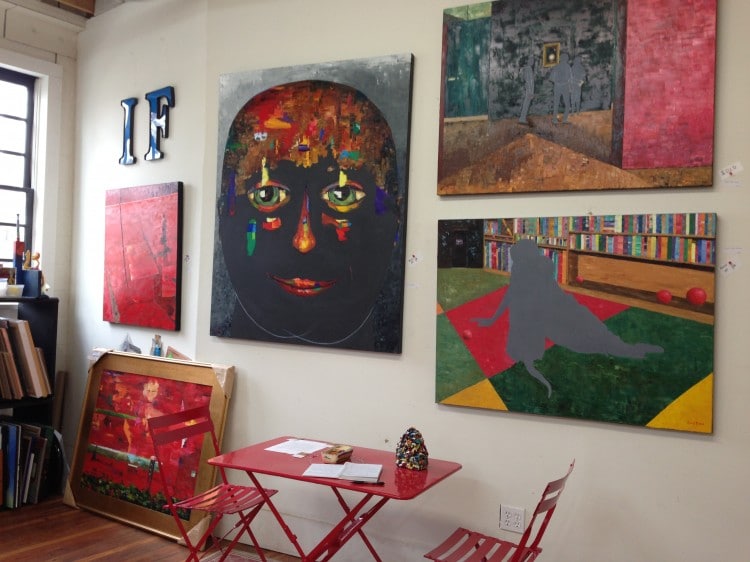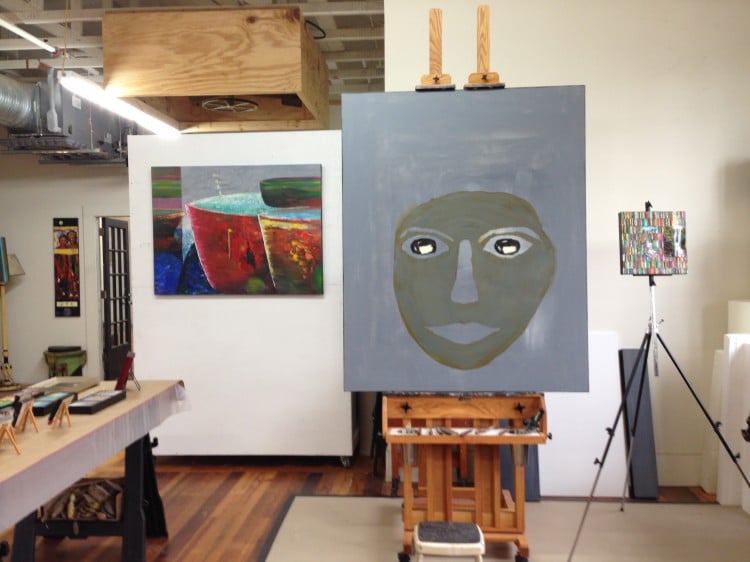 Graphic designer and teacher at the Art Institute of Atlanta and The Portfolio Center in Atlanta, Patricia DiBona's work is featured below.  Many pieces on display in her studio that day contain very feminine subject matter and often express an intimate and spiritual journey. Her alter pieces are one the most unique things I think she does. More of her collage art and mixed media pieces can be found here. She also teaches workshops and classes on many topics such as bookmaking, soldiering, collage and card making, encaustics and painting.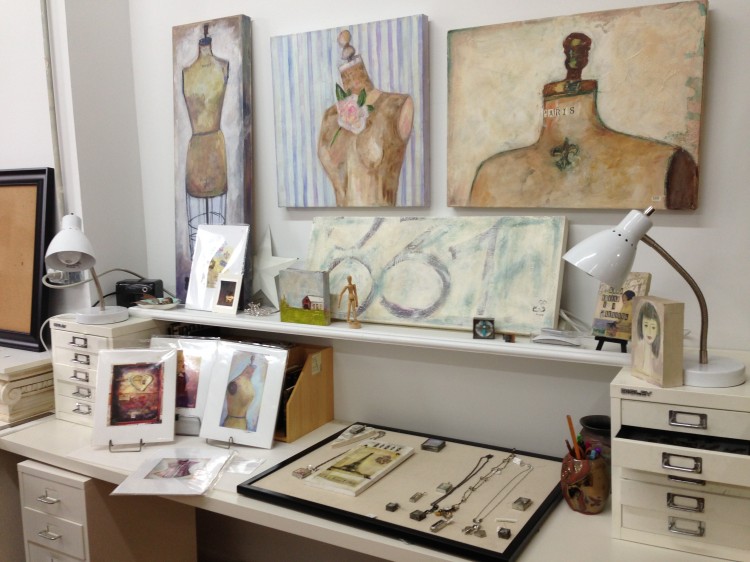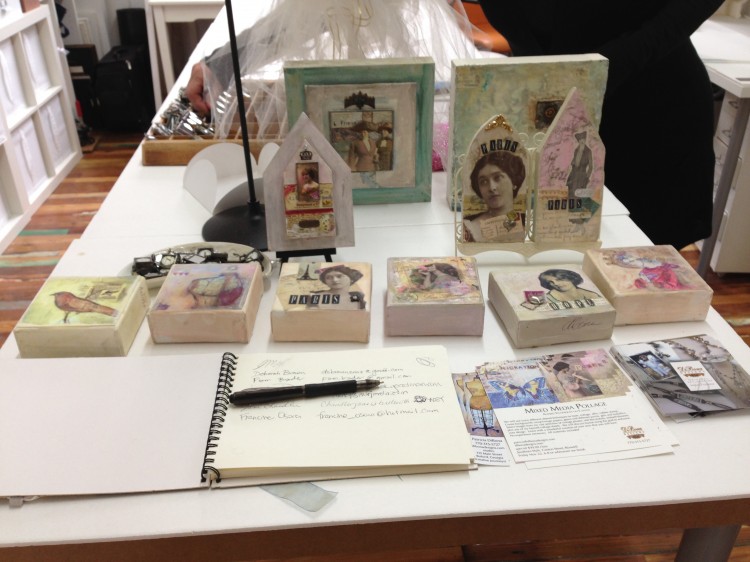 This is Laura Jay. Can you tell by her cute smile what a joy she was to talk to? In fact, I enjoyed talking to her so much, regretfully, I didn't even get pictures of her work. She told me she enjoys studying the face, skin tones, and facial features, etc. You can see on her table she is working on one in the picture. And isn't this table to die for??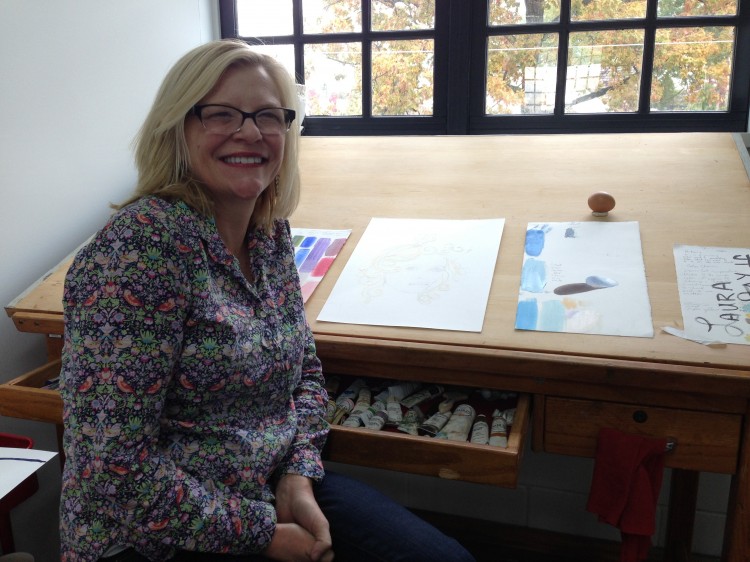 Below is the work of Elizabeth Stockton. Her primary focus is oil on canvas and oil on paper. The piece below was my favorite, and she talked about the process of creating it by scraping cardboard with left over white paint over the canvas. Marshes are common subject matter and you can see a sample of one of those in the picture below. And anything hanging or kinetic appeals to me, so the yellow sculpture below, which looked to be paper mache, was instantly a favorite of mine. The artist's husband is a writer. His work was sprinkled all around her studio. The last picture is a sample of her oil on paper.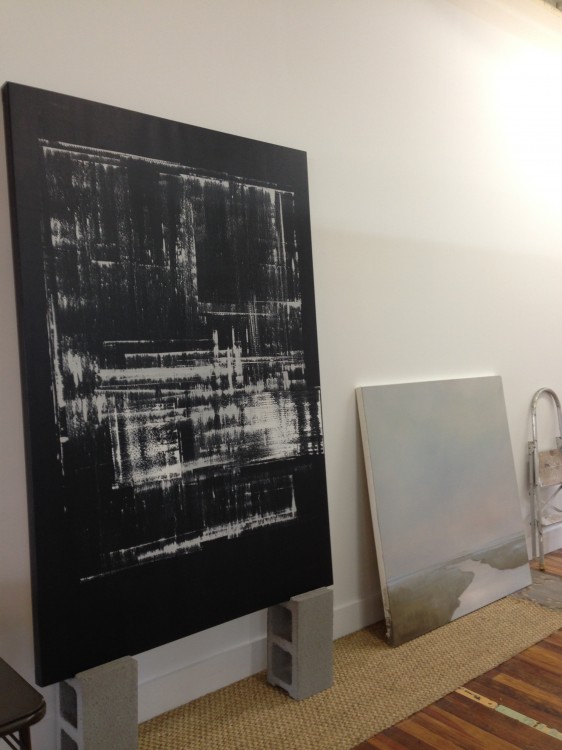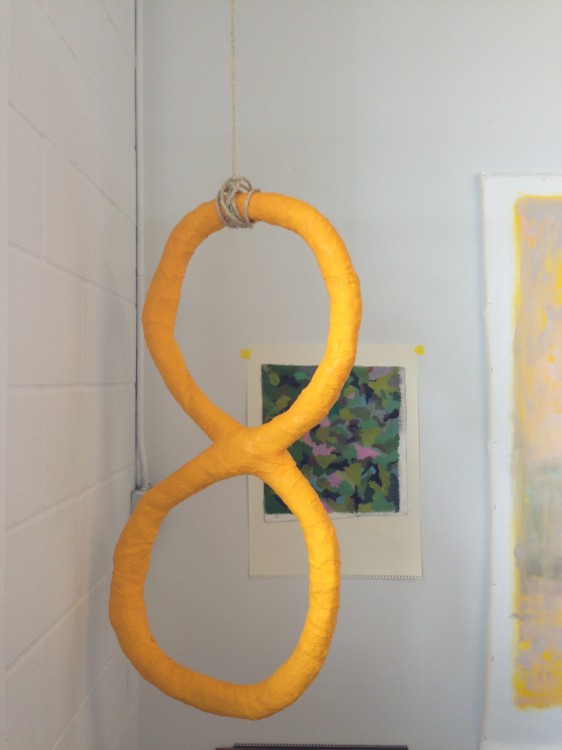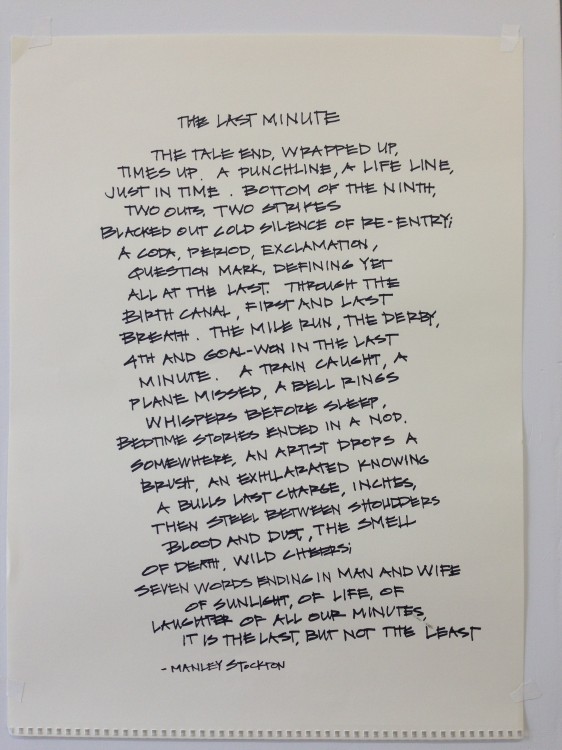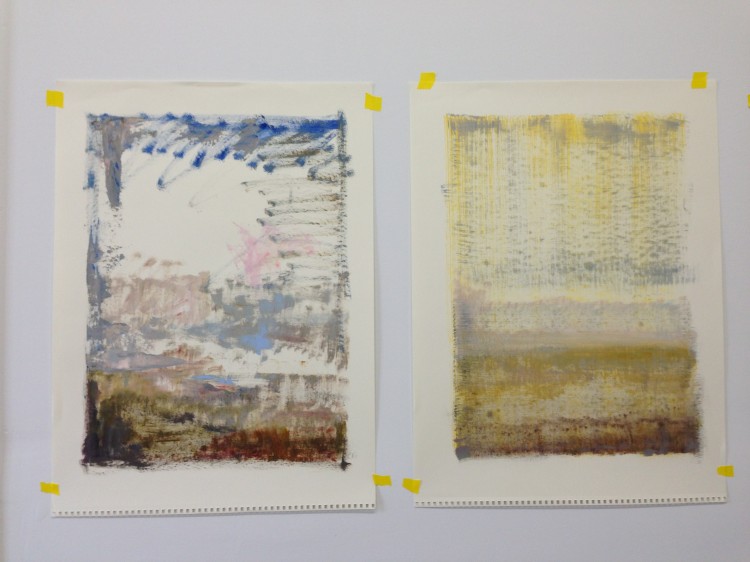 Lindy Elmore's studio was like walking in nature. Her space was filled with landscapes, trees, grapes, mushrooms, etc. I love the soft quality of her paintings. It was if someone had taken a picture and used a softening filter or overlay on top of all her paintings.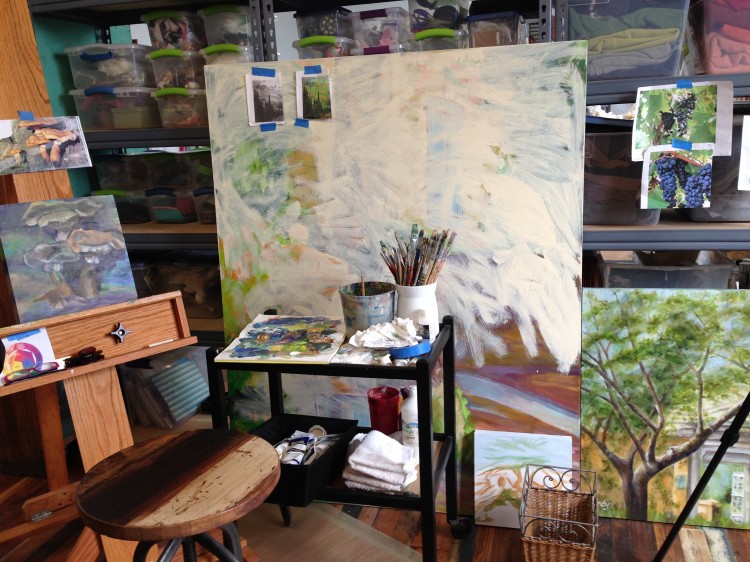 No matter how talented you think you are or aren't, doesn't this table make you want to sit down and paint something immediately? It does me!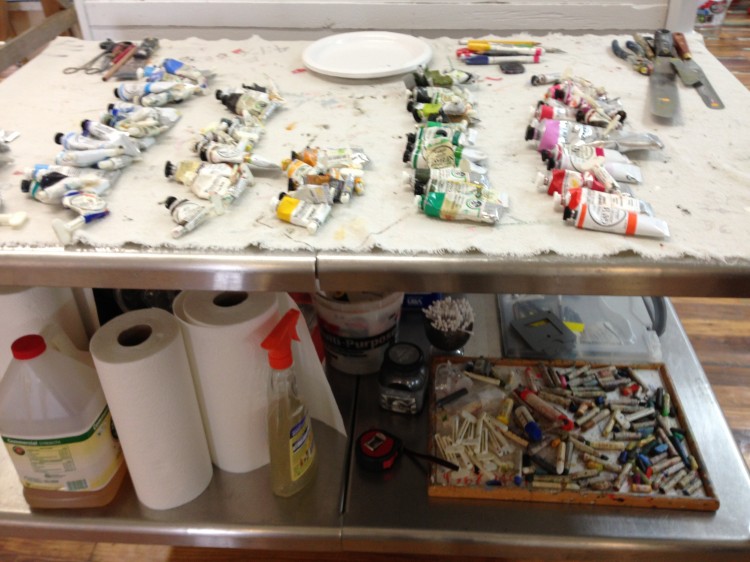 And finally, every creative space needs a furry one running around. Don't you agree? 😉 This is Sucio.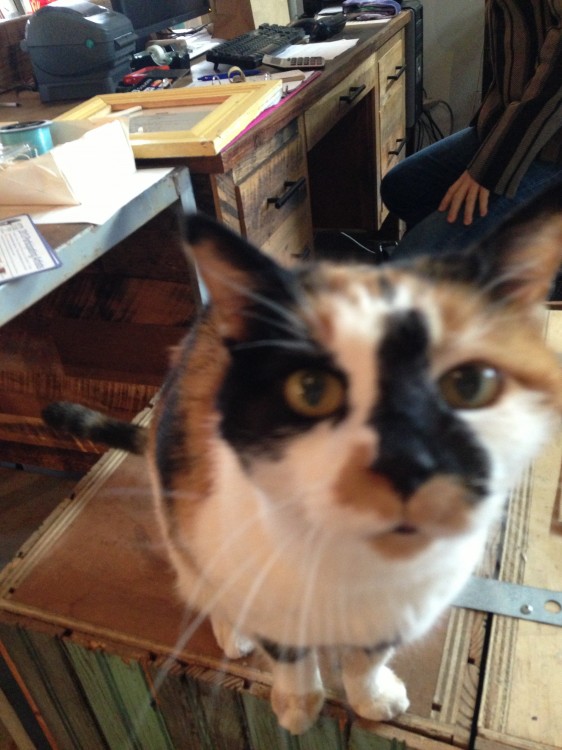 If you've read The Artist's Way by Julia Cameron (and you should, if you are a creative person), then you are familiar with the Artist's Date. It's the date you go on once a week with your creative self. As Julia Cameron says,
"The Artist Date is a once-weekly, festive, solo expedition to explore something that interests you. The Artist Date need not be overtly "artistic" — think mischief more than mastery. Artist Dates fire up the imagination. They spark whimsy. They encourage play. Since art is about the play of ideas, they feed our creative work by replenishing our inner well of images and inspiration. When choosing an Artist Date, it is good to ask yourself, "what sounds fun?" — and then allow yourself to try it."
Above Ground Studios is the perfect place for your next Artist's Date. They are having an open house Sunday December 8th. The address is 5565 Peachtree Rd. Atlanta, GA  30341. Enjoy!!