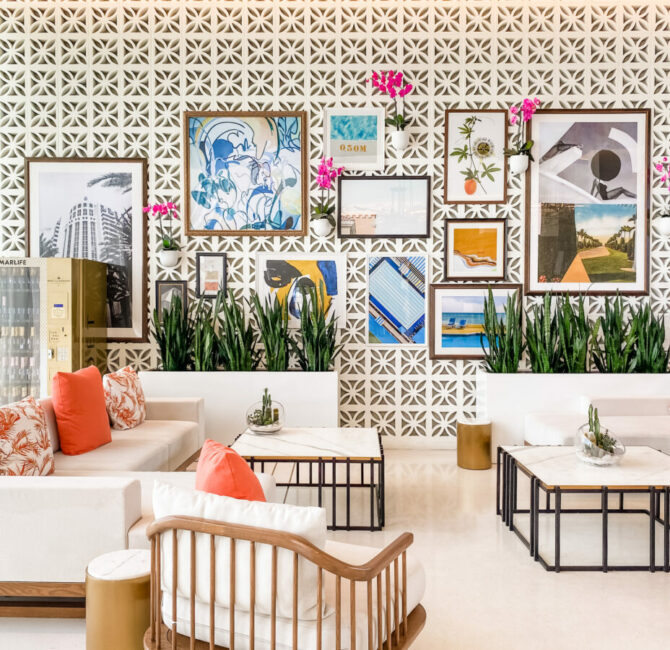 A  Midcentury South Florida Lifestyle Hotel
I felt as if I was transported into a Slim Aarons photo at The Dalmar complete with midcentury breeze blocks, references from both Florida and California during the Golden Age of Travel, and of course, a champagne vending machine giving me these vibes….
Several restaurants were closed while we were there due to COVID, but I wanted to share what was open and the spectacular design details, so you can add it to your Ft Lauderdale list.
Lobby and check-in
The open, lattice work work behind the check-in mimics a large scale breeze block pattern tying it to the adjoining lobby bar and seating area. The gold linework detail in the terrazzo and mother of pearl floor creates runway affect, which subconsciously adds to the wayfinding, drawing you to the desk. It also helps define the two seating areas on either side and adds another beautiful, subtle material to the mix. Check out this muted teal slab wall, and they lined the seam up with the doors. So beautiful.
Lobby Bar
This material nesting we see on the corner edge, built up countertop with contrasting piping, and the lowered server station make this an outstanding bar design. This material looks like it might be an onyx and a view of the front (without barstools) shows downlight washing a beautiful book matching of the material. Lovely details.
Lobby Bar Seating
An excellent, one-size-does-not-fit-all, approach was taken here, as we see multiple seating options for varying types of bodies, sizes, functions, and needs. An array of conversational areas and communal tables means creating social areas for people to meet or smaller tables for private discussions. An overall orange and blue (and shades of a minty teal) guides the palette, rich woods warm up the space, white breeze blocks take us back to a specific era, and a casual collection of images creates a sense of place and sparks memory.
Rose's Coffee Bar
One the ground floor as you enter, this outdoor space off the coffee bar with geometric tile and living wall feel like a garden in the middle of the city. Perfect spot for coffee with a little buffer from street noise. Love the coffee bar lighting, too.
When I share a blog, I consider three readers: The person who knows nothing about design but is interested in beautiful spaces, places and travel. My fellow designers, to show ideas and how other designers have treated each space and situation, and lastly the potential future client who reads this to educate themselves, because maybe, they are thinking about a project of their own someday. I tell you this because you might fit into one of these categories, and while the next pictures may be of little interest to you, they might be for someone else in this group.
Transition spaces
While these seem unimportant, corridors, vestibules and other transition spaces support the experience. I find in some projects, clients want to spend less on these spaces, and I understand that, but these spaces are important to continue the vibe. They also receive a lot of abuse with high traffic and things like careless people in a rush or weary travelers with suitcases. The vertical, stack bond, blue tile is like a gorgeous ocean blue in varying shades highlighted by indirect lighting originating from the ceiling cloud above and uplighting from the floor. Lighting is absolutely everything for mood. Don't skimp on it. These 3-diminesional tiles in the second photo add a graphic detail and play tricks on the eyes making you question if they are in fact 2-D or 3-D. I love tactile materials that begged to be touched, and a mirror in a vestibule at a hotel is a necessity. We need one last look before we dash out.
Although I couldn't get great shots of the rooftop pool overlooking downtown, I wanted to share these two images from their Instagram page. And because I have this little obsession with carts.
Oh, and that vending machine I mentioned. We all love full service, but sometimes grab and go is just easier when we want a little more speed and less interaction with folks.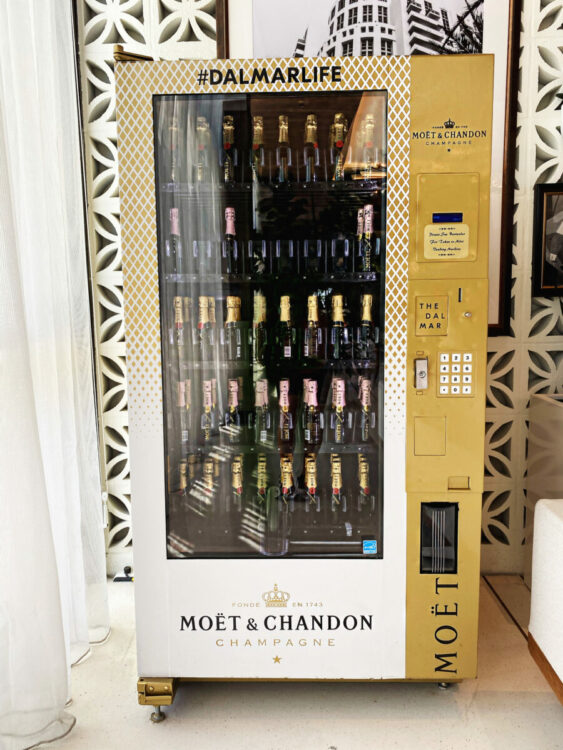 Hope you loved this destination!! Looking forward to everything being back open!
XO,
Cassandra