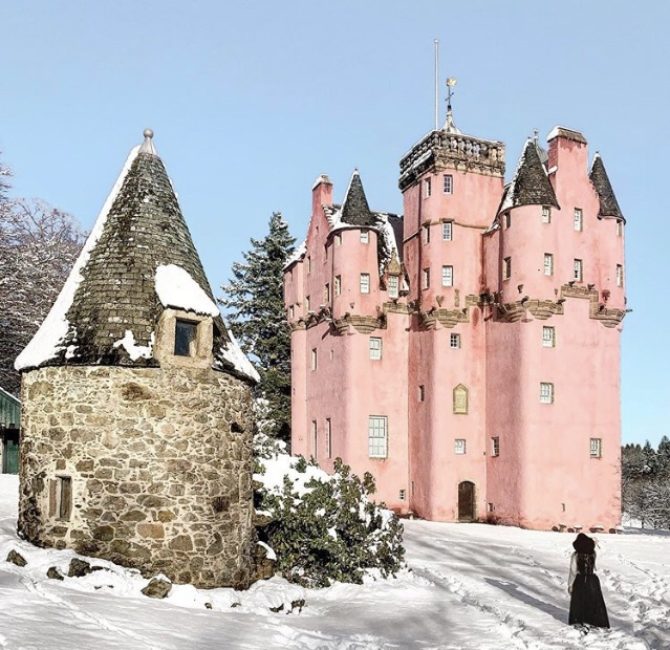 Valentine's Day Design Inspiration
Grand pink architecture and interiors, romantic fashion, and an adorable pink Figaro that leave us high on sugary sweet design and perfect shades of pink.
Schloss Benrath
Schloss Benrath Palace located in Dusseldorf was designed by French architect Nicolas de Pigage. The pink Baroque style building proves that pink is an appropriate and acceptable color for the grandest and oldest of buildings and is simply gorgeous. You can actually rent out a few of the halls for your private event.
Craigievar Castle
Craigievar Castle, completed in 1626, is a pink harled castle in Scotland. If those turrets spark fairy tale images for you, well they did for Disney also, and it's reported to be the inspiration for the Disney castle.
Peggy Porschen
Peggy Porschen Cakes has been on my radar lately, as much for the design and their Instagram account, as for their sweets. They are topping A-list celebrity events for people such as Kate Moss, Elton John and Stella McCartney to name a few. Their pink building, floral installations and adorable pastry creations are truly one-of-a-kind. I always admire, and try to incorporate, a creative concept that runs throughout, and you can see that here with the mushroom pastries and the mushroom installation. Just look at the different floral arrangements they install on their building below via their Instagram page.
Photos: Peggy Porschen Instagram
Sketch London
Part gallery, part restaurant, this 18th century townhouse tea room turns into a cocktail lounge in the evening, and I'm pretty sure it's the place to be on Valentine's Day. I love the mix of the glamorous, Hollywood interiors with the graphic, line drawing art.
Photos: Civilian Global
Elie Saab
When it comes to romantic, elegant and feminine fashion, Ellie Saab always get it right with the most beautiful lace, beading, embroidery and the extraordinary details expressed throughout the garments. Every sleeve is perfection and it's hard to imagine that many options. The dusty pink, white, and nude colors are so soft and romantic. I need one of these gowns from the Haute Couture Spring Summer 2020 Show to wear while I roam around Benrath palace above.
Photos: Elie Saab World Instagram
Le Pink Figaro
And what better way to arrive than a pink Figaro. Did you know this car was made by Nissan? I had no idea. And if you love this little car, you can follow all of its adventures on Instagram below.
Photos: Le Pink Figaro Instagram
Hope you have a sweet and romantic Valentine's Day full of love.
xo,
Cassandra