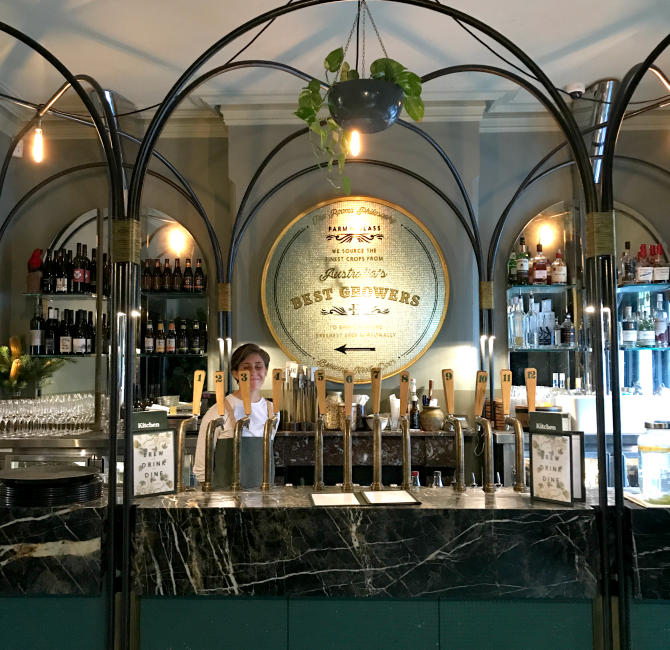 Beer Lovers + Design Lovers
Endeavour Tap Rooms, located in Sydney's oldest, colonial hotel building in the Rocks District (Sydney's first settlement), called me from across the street when I saw the aqua colored tiles, casement windows and burgundy trim on the facade of this architectural, historic gem. This quaint, almost pretty without being feminine, brewery feels nothing like your standard brewpub. Don't let the botanicals and birds on the walls, flowers at each table, and beautiful wallpaper fool you, its more than just a pretty place.
Serving only seasonally harvested, Australian ingredients with no preservatives, along with seasonal libations, and the star of the show, of course, the vintage beer, this little corner spot has a 600-liter brewery, eight tanks, four key lines, four rotating taps and a lot of knowledgeable people behind it, in both the hospitality and brewing industries in Australia. There are 10 different beers to sample by Endeavour Vintage Beer Co with an interior that has just as earthy of a palette as the beer.
With the classic, barrel back, wood pub chairs and colonial style print wallpaper, this space hearkens back to its original iteration as Seaman's hotel. With a lighthearted, contemporary British pub feel, thanks mostly to all the wood tones, this space feels airy and bright with all the whites and greens, but also grounded with the dark wood floors, railing and brown geometric tiles. I loved the special surprise of finding the original fireplace in the ladies restroom, the logo design on the coasters and the built-in, self-serve water faucet in the dining room. And what is that beautiful pink flower that looks like a pinecone?
The beer was wonderfully refreshing and light after day of exploring the Opera House and Rocks District. Definitely a must visit next time you're in Sydney.
Xo,
Cass